Why Snap Inc., FactSet Research Systems, and Raven Industries Slumped Today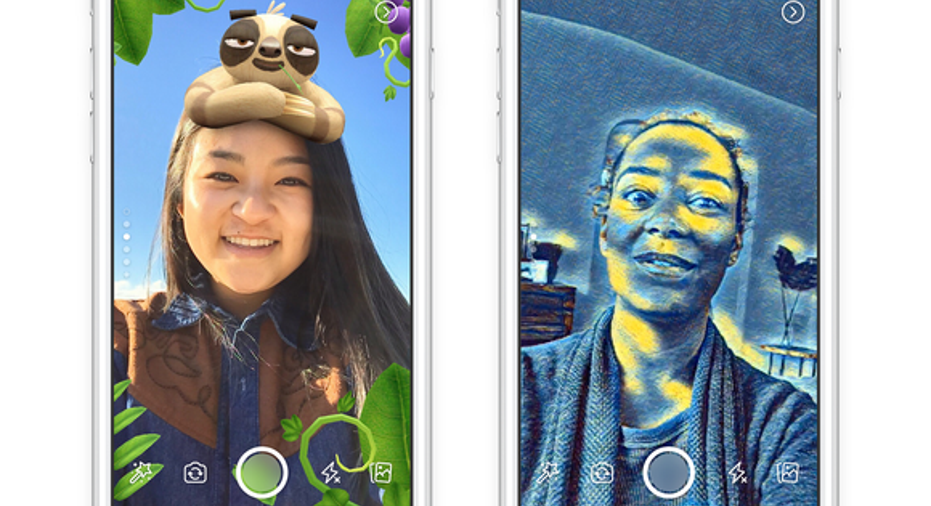 After a mixed start to the week, the stock market turned positive on Tuesday, with theDow Jones Industrial Averageup 151 points, or around 0.7%. Other broader market indexes enjoyed similar gains, withtheNasdaq climbing 0.6%,and theS&P 500rising 0.7%as President Trump -- still reeling from Republicans' failure last week to garner enough support to push their new healthcare reform bill through the House -- turned his attention toward rolling back what he described as "job-killing regulations" related to education, federal purchasing, and land use.
But several individual stocks were left behind amid the overall market's gains today, including Snap Inc.(NYSE: SNAP), Raven Industries (NASDAQ: RAVN), andFactSet Research Systems(NYSE: FDS).Read on to see what drove these unusual moves.
Facebook launched new Snapchat-esque camera effects today. Image source: Facebook.
New features on Facebook make Snap investors sweat
Shares of Snapchat parent Snap Inc. declined 6.8% after social media titan Facebook(NASDAQ: FB) launched new in-app camera features.
Facebook is giving these new features prominent placement. Starting this week on both iOS and Android, Facebook users can simply tap the camera icon in the top left corner of their Facebook app or swipe right from their news feed to access the camera, which features dozens of effects from masks to filters, and frames, and even interactive dynamic objects like falling snow.
For perspective, Facebook boasted a captive audience of1.23 billiondaily active users (DAUs) in December 2016, dwarfing the 158 million DAUs reported by Snapchat in its most recent quarter.Though there might well be room for more than one app of this type to succeed in today's market, it's understandably concerning to Snap investors to see a competitor of Facebook's magnitude continue to make moves on its niche (Instagram Stories was apparently just the first foray).
FactSet's revenue falls short
FactSet Research Systems stock dropped 5.7% after the financial data and software company announced mixed fiscal second-quarter 2017 results. Quarterly revenue climbed 4.5% year over year, to $294.4 million -- below analysts' estimates for $296 million -- which translated to 8.7% growth in adjusted net income, to $71.8 million. Adjusted net income per share climbed 13.8%, to $1.81 -- beating Wall Street's expectations by $0.01 per share -- helped by share repurchases over the past year.
For the current fiscal third quarter, FactSet anticipates revenue in the range of $301 million to $307 million, and adjusted earnings per share of $1.80 to $1.86. Analysts, on average, were anticipating roughly the same earnings on revenue near the low end of FactSet's guidance range.
"FactSet continues to be a leading technology partner for the investment community delivering another quarter of growth in a market that remains challenging for the financial industry," added FactSet CEO Phil Snow. "Through product innovation and acquisition, we believe we are well positioned to offer a broad suite of solutions across the enterprise for our clients critical workflows."
Raven Industries earnings disappoint
Finally, shares of Raven Industries declined 5.4% after the mini-industrial conglomerate announced its own fiscal fourth-quarter 2017 results. Quarterly revenue grew 30.5% year over year, to $68.9 million. On the bottom line, Raven's significant operating leverage drove net income 131.4% higher, to $4.4 million, or $0.12 per share. But analysts, on average, were modeling higher earnings of $0.15 per share on roughly the same revenue.
To be fair, Raven Industries doesn't provide specific quarterly earnings guidance. And Raven CEO Dan Rykhus insisted the company is "very pleased with the progress made and performance achieved throughout fiscal year 2017." That included improved sales growth from both Raven's applied technology and engineered films segments, and a return to profitability for its Aerostar business, Rykhus noted, "following several quarters of operating losses."
What's more, Raven maintained its longer-term goals of generating at least 10% annualized earnings growth with strong relative returns on equity and assets. But with shares still up nearly 81% over the past year, perhaps it should be no surprise to see investors taking some of those profits off the table given Raven's bottom-line shortfall relative to expectations today.
Offer from The Motley Fool: The 10 best stocks to buy nowMotley Fool co-founders Tom and David Gardner have spent more than a decade beating the market. In fact, the newsletter they run, Motley Fool Stock Advisor, has tripled the S&P 500!*
Tom and David just revealed their ten top stock picks for investors to buy right now.
Click here to get access to the full list!
*Stock Advisor returns as of 3/24/2017.
Steve Symington has no position in any stocks mentioned. The Motley Fool owns shares of and recommends Facebook and FactSet Research Systems. The Motley Fool recommends Raven Industries. The Motley Fool has a disclosure policy.