Why Smith & Wesson Stock Slumped 11% Today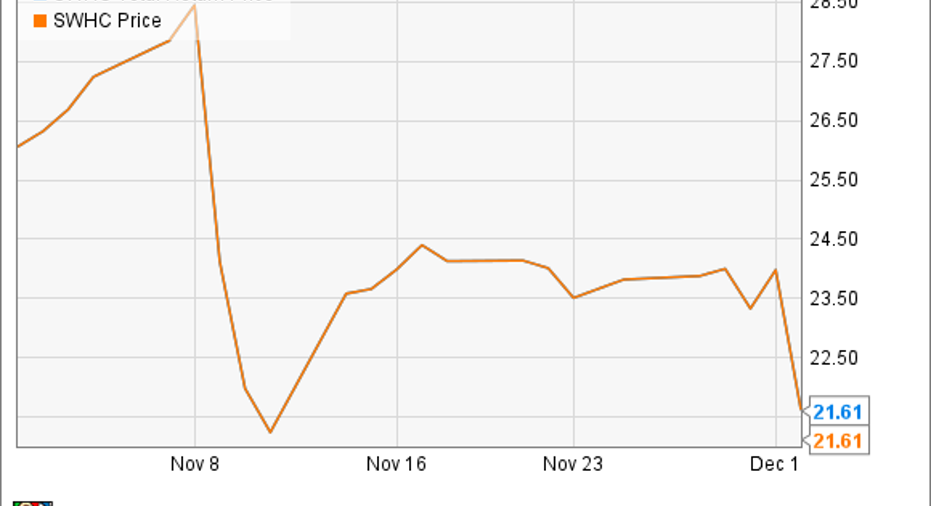 Smith & Wesson stock plunged after President-elect Donald Trump beat Hillary Clinton. It's falling again on Friday, after the stock "beat" earnings.SWHC Total Return Price data by YCharts.
What happened
Shares of Smith & Wesson (NASDAQ: SWHC) stock are down 9.9% as of 11 a.m. EST, after falling as much as 11.1% in early Friday trading.
So what
Smith & Wesson reported fiscal Q2 2017 earnings Thursday night. Profits came in at $0.68 per share, up 159% in comparison to last year's Q2 earnings of $0.22 per share, and beating consensus estimates by 24%. Sales for the quarter were $233.5 million, up 63% year over year and about 2% better than analysts had predicted.
CEO James Debney pronounced himself "very pleased with our second-quarter results, which exceeded our financial guidance." Debney characterized consumer demand for guns as "strong" across the market, and noted further that Smith & Wesson in particular enjoyed "market share gains" during the quarter.
Now what
So if all the numbers were good -- and even better than expected -- then why is Smith & Wesson stock down? One answer could be investor concern over Smith & Wesson's curious decision to rebrand itself as "American Outdoor Brands Corporation," which is expected to take place on Jan. 1, 2017 (assuming shareholders approve the action).
Smith & Wesson has been diversifying its business toward less lethal endeavors than just manufacturing guns, and may hope that the rebranding will shield it from public disapproval of "gun stocks." On the other hand, the rebranding may remind investors of a possible ongoing "diworsification" of the company away from a product that -- let's face it -- has profited Smith & Wesson very well, as Thursday's results confirm.
Another culprit for the sell-off may be found in guidance. Management had previously told investors to expect $900 million to $920 million in revenue this year. New guidance issued Thursday confirms that management will now surpass the top end of that range, and perhaps take in as much as $930 million in revenue this year. On the other hand, the company narrowed its range of expected earnings to $2.42 to $2.47 (pro forma). S&W shaved a penny off the top end of its previous guidance to create the new range, which suggests Smith & Wesson now sees less upside to its business, after the election of Donald Trump, than it foresaw under a potential President Hillary Clinton.
Investors may be punishing the stock for the new guidance. If that's what's happening, then I think investors are overreacting, but that's their right to do so.
10 stocks we like better than Smith and Wesson Holding When investing geniuses David and Tom Gardner have a stock tip, it can pay to listen. After all, the newsletter they have run for over a decade, Motley Fool Stock Advisor, has tripled the market.*
David and Tom just revealed what they believe are the 10 best stocks for investors to buy right now... and Smith and Wesson Holding wasn't one of them! That's right -- they think these 10 stocks are even better buys.
Click here to learn about these picks!
*Stock Advisor returns as of November 7, 2016
Fool contributorRich Smithdoes not own shares of, nor is he short, any company named above. You can find him onMotley Fool CAPS, publicly pontificating under the handleTMFDitty, where he currently ranks No. 336 out of more than 75,000 rated members.
The Motley Fool has no position in any of the stocks mentioned. Try any of our Foolish newsletter services free for 30 days. We Fools may not all hold the same opinions, but we all believe that considering a diverse range of insights makes us better investors. The Motley Fool has a disclosure policy.