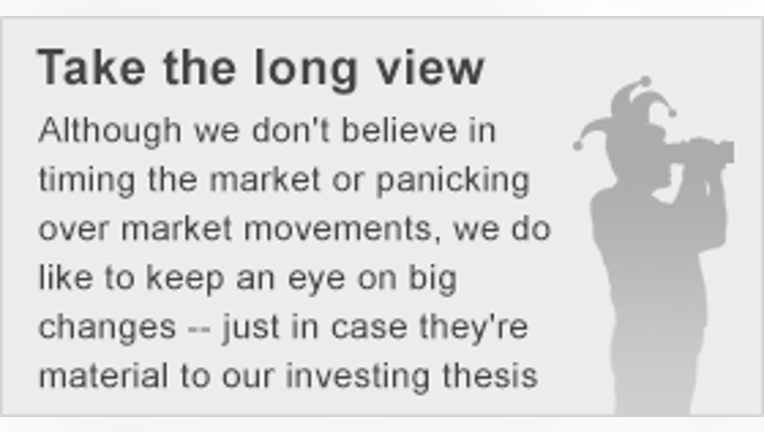 Image source: Smith & Wesson.
What: Shares of gun maker Smith & Wesson Holding Corp fell 18% in April, according to data provided by S&P Global Market Intelligence, after some negative data was released about the pace of gun sales.
So what: The FBI's National Instant Criminal Background Check System showed a 13.2% decline in background checks between February and March. This was following speculation by investors that gun regulation could be on the agenda after the next election, driving a wave of gun purchases in the meantime. At least for one month, that doesn't seem to be the case.
The other notable news item during the month was that families of the victims of the 2012 Sandy Hook massacre will be able to sue the company over the legality of selling the AR-15. This could bring the debate over the semi-automatic rifle's legality into court, which Smith & Wesson would rather avoid.
Now what: I wouldn't read too much into either of these news items, because they could just be short-term setbacks for the company's sales. And with shares now trading at 13.4 times forward earnings estimates, there appears to be some value in SWHC. Keep an eye on the pace of gun sales in coming quarters to see if there are indications that election cycles aren't driving greater gun ownership, because that could adjust how much growth we can expect going forward.
The article Why Smith & Wesson Holding Corp's Shares Plunged 18% in April originally appeared on Fool.com.
Travis Hoium has no position in any stocks mentioned. The Motley Fool has no position in any of the stocks mentioned. Try any of our Foolish newsletter services free for 30 days. We Fools may not all hold the same opinions, but we all believe that considering a diverse range of insights makes us better investors. The Motley Fool has a disclosure policy.
Copyright 1995 - 2016 The Motley Fool, LLC. All rights reserved. The Motley Fool has a disclosure policy.