Why Small Cells Could Be a Big Deal for Skyworks Solutions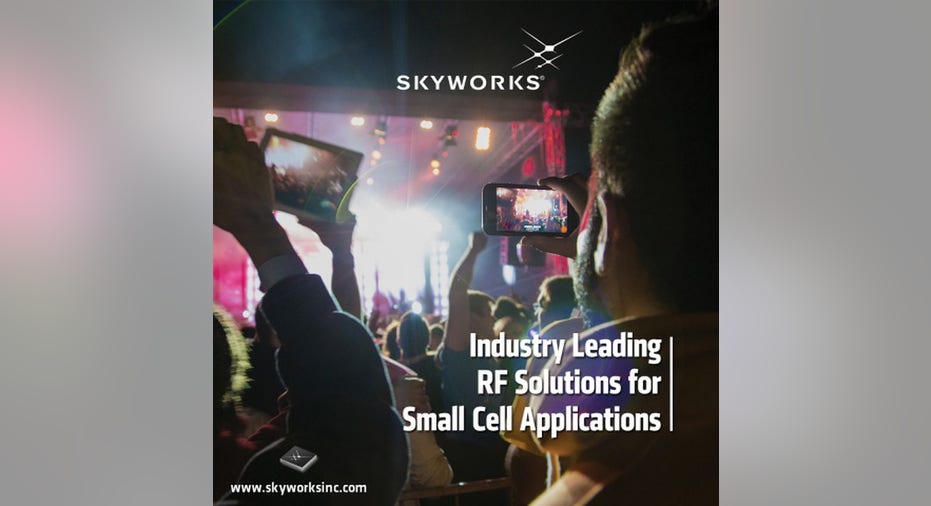 Image source: Skyworks Solutions.
Cisco forecasts that 11.6 billion mobile devices will connect to the internet by 2021, resulting in seven-fold growth in mobile data traffic from 2016 levels. Such a massive spurt in mobile data will create demand for better infrastructure and more equipment.
One of the best ways to take advantage of this exponential data growth is by investing in companies that provide the components and infrastructure to power mobile connectivity. Skyworks Solutions (NASDAQ: SWKS) is one such option as it supplies analog chips to enable connectivity among a wide range of devices. What's more, it recently launched a new family of products to tap this opportunity.
Skyworks aims at a big opportunity
Skyworks has launched eight new power amplifiers targeting the small-cell infrastructure market that can be deployed across LTE, 4.5G, and 5G networks. The company has already found a customer for this product family. Small-cell systems supplier SpiderCloud Wireless is using these power amplifiers across its enterprise LTE radio access network.
The SpiderCloud contract could be a big deal for Skyworks as the former's small-cell architecture is used by big telecom companies such as Verizon and Vodafone. More importantly, it won't be surprising if small-cell power amplifiers gain widespread adoption since they will perform a mission-critical function in the growth of high-speed networks.
Small cells are low-power access nodes that have a limited coverage area of around a mile, allowing telecom operators to offload mobile data traffic. In simpler terms, they allow mobile operators to support a higher volume of mobile data traffic and extend the coverage range, thanks to additional spectrum capacity.
This makes the technology crucial to the growth of mobile data as it enables network decongestion and also brings coverage to rural areas. What's more, small cells also find specialized applications -- such as in sporting arenas -- where mobile data traffic load could spike at certain times.
According to Small Cell Forum, the deployment of four small cells could reduce a network's load by 50% and improve performance by a whopping 315%. Given its many benefits, TechNavio estimates that the small-cell market will be worth $10.65 billion in 2021 as compared to $4.50 billion last year, so Skyworks is sitting on a huge opportunity here.
Seems to be winning market share
Skyworks has to compete against the likes of Broadcom (NASDAQ: AVGO), Qorvo, and others in the small-cell market. In fact, a couple of years ago, these players were dominating the industry and Skyworks was nowhere to be seen. Broadcom was the go-to supplier for small-cell power amplifiers and counted SpiderCloud Wireless as its client, but Skyworks has now won this business with its latest product.
The tables have turned in Skyworks' favor thanks to its impressive design win momentum that started around two years ago, when it landed 20 sockets in an LTE small cell. Broadcom, meanwhile, has been dialing down its focus on the small-cell market after merging with Avago, giving Skyworks easier access to this market.
What's more, a recent Apex Research report now counts Skyworks among the top small-cell power amplifier manufacturers. More importantly, the company's focus on delivering future-proof products should help it stay ahead of the curve when compared to peers.
For instance, Skyworks' latest power amplifier products also support 5G networks, which can be an important differentiator for a potential customer since this technology is slated to grow astronomically. Cisco forecasts that global 5G connections will jump from just 2.3 million in 2020 to more than 25 million in 2021 -- generating almost 5 times more traffic compared to 4G networks -- indicating that Skyworks Solutions is making the right moves to tap this multibillion-dollar market.
10 stocks we like better than Skyworks SolutionsWhen investing geniuses David and Tom Gardner have a stock tip, it can pay to listen. After all, the newsletter they have run for over a decade, Motley Fool Stock Advisor, has tripled the market.*
David and Tom just revealed what they believe are the 10 best stocks for investors to buy right now...and Skyworks Solutions wasn't one of them! That's right -- they think these 10 stocks are even better buys.
Click here to learn about these picks!
*Stock Advisor returns as of February 6, 2017.
Harsh Chauhan has no position in any stocks mentioned. The Motley Fool owns shares of and recommends Skyworks Solutions. The Motley Fool has the following options: short August 2017 $87 calls on Skyworks Solutions and short August 2017 $85 puts on Skyworks Solutions. The Motley Fool recommends Broadcom and Cisco Systems. The Motley Fool has a disclosure policy.