Why Skyworks Solutions, Inc. Stock Jumped 22.9% in January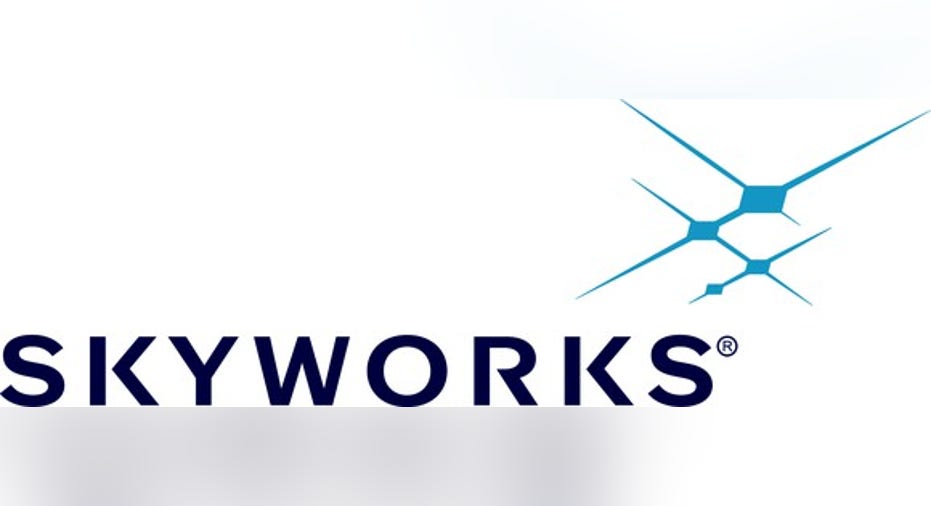 What happened
Shares of Skyworks Solutions Inc.(NASDAQ: SWKS) rose 22.9% in January,according to data fromS&P Global Market Intelligence, thanks to a solid quarterly report from the wireless analog semiconductor specialist.
So what
That's not to say Skyworks' results looked particularly strong at first glance. Quarterly revenue declined 1.3% year over year, to $914.3 million, while adjusted net income fell 3.1%, to $301.6 million, or $1.61 per share. But analysts, on average, were modeling lower revenue and adjusted net income of $902.7 million and $1.58 per share, respectively.
IMAGE SOURCE: Skyworks Solutions
CEO Liam Griffin called his company's performance "exceptional," noting that it was "fueled by global demand for ubiquitous mobile connectivity and the Internet of Things." And shares of Skyworks jumped 13% the following day as a result.
Now what
It also helped thatSkyworks simultaneously announced that its board has authorized a new $500 million share-repurchase plan, replacing an existing $400 million plan that had just $95 million remaining at the end of the quarter. The new plan is good through mid-January 2019.
In addition, Skyworks expects to return to year-over-year growth in the current quarter, with revenue climbing 8% to $840 million. That should translate to adjusted earnings per share of $1.40. Analysts were less optimistic in either case, with consensus estimates predicting current-quarter revenue of $818 million and adjusted earnings of $1.24 per share.
To that end, Skyworks Solutions stock has climbed modestly higher since the day after its report last month -- perhaps an unsurprising development, as analysts have gradually ratcheted up their own models to match the company's guidance -- leaving shares nearly 60% higher than they stood this time one year ago. But if it turns out the company is under-promising with the intention of over-delivering, Skyworks Solutions stock could still have plenty of room to run higher from here.
10 stocks we like better than Skyworks SolutionsWhen investing geniuses David and Tom Gardner have a stock tip, it can pay to listen. After all, the newsletter they have run for over a decade, Motley Fool Stock Advisor, has tripled the market.*
David and Tom just revealed what they believe are the 10 best stocks for investors to buy right now... and Skyworks Solutions wasn't one of them! That's right -- they think these 10 stocks are even better buys.
Click here to learn about these picks!
*Stock Advisor returns as of February 6, 2017
Steve Symington has no position in any stocks mentioned. The Motley Fool owns shares of and recommends Skyworks Solutions. The Motley Fool has the following options: short August 2017 $87 calls on Skyworks Solutions and short August 2017 $85 puts on Skyworks Solutions. The Motley Fool has a disclosure policy.