Why Skechers USA Inc Stock Popped Today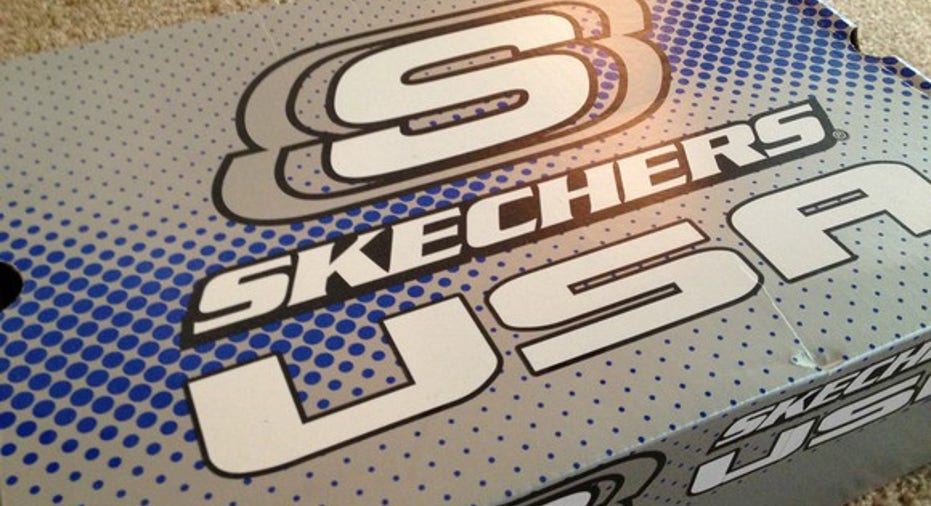 Image source: The Motley Fool.
What happened
Shares of footwear makerSkechers USA Inc(NYSE: SKX) were cruising higher today on news that CEO Robert Greenberg bought stock in the company and that it got an analyst upgrade. As of 11:37 a.m. EST, the stock had gained 15%.
So what
Insider buying is often seen as a bullish signal for a stock. After all, no one should have more information on where a company is headed than the CEO. Greenberg scooped up 500,000 shares, or nearly $11 million worth of stock, no small bet on the casual footwear company. He paid an average price of $21.96, and the stock surged to more than $26 on today's news.
Separately, Skechers was upgraded to a buy by Buckingham Research, which gave the stock a price target of $31.
Now what
Skechers has had a rough year. Even after today's jump the stock is down 13% year to date, and has lost half of its value since it peaked last summer. Earnings came in short of estimates in the last two quarters. Notably, the domestic business has been especially weak, seeing sales decline by 3.4% in the most recent quarter, which has pressured profits. The footwear market has been getting more competitive, and rivals like Under Armour (NYSE: UA)(NYSE: UA-C) andNike(NYSE: NKE) have seen profit growth slow. Both companies' stocks are trading near 52-week lows. A resurgentAdidasalso seems to be grabbing share.
It's unclear why Greenberg bought those shares, but he likely sees positive momentum for the company and took advantage of the beaten-down price. At a P/E of just 15, the stock should move higher if the company can return to steady profit growth.
10 stocks we like better than Skechers When investing geniuses David and Tom Gardner have a stock tip, it can pay to listen. After all, the newsletter they have run for over a decade, Motley Fool Stock Advisor, has tripled the market.*
David and Tom just revealed what they believe are the 10 best stocks for investors to buy right now... and Skechers wasn't one of them! That's right -- they think these 10 stocks are even better buys.
Click here to learn about these picks!
*Stock Advisor returns as of November 7, 2016
Jeremy Bowman owns shares of Nike and Under Armour (A Shares). The Motley Fool owns shares of and recommends Nike, Skechers, Under Armour (A Shares), and Under Armour (C Shares). Try any of our Foolish newsletter services free for 30 days. We Fools may not all hold the same opinions, but we all believe that considering a diverse range of insights makes us better investors. The Motley Fool has a disclosure policy.