Why Skechers Stock Dropped 19% in 2016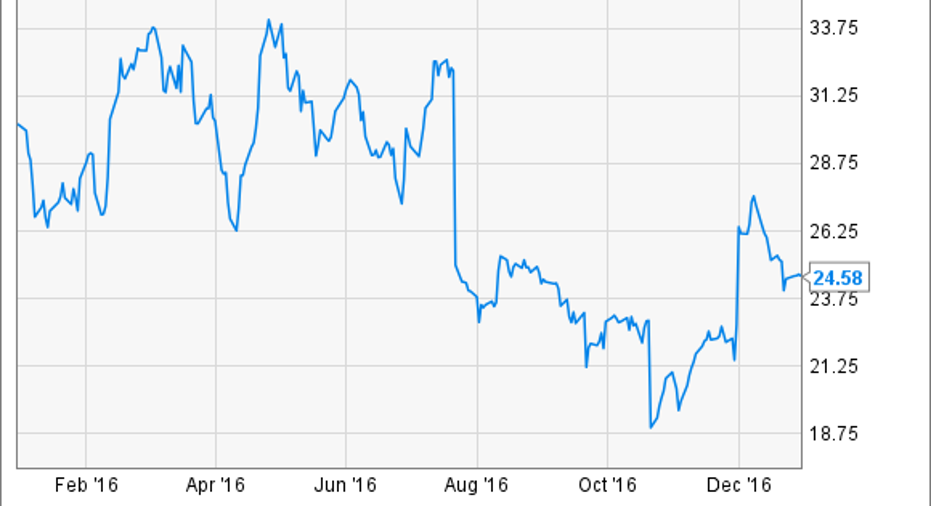 Image source: Skechers.
What happened
Shares of footwear company Skechers (NYSE: SKX) fell 18.6% in 2016, according to data provided byS&P Global Market Intelligence. A slowdown in growth and a string of mixed and negative earnings reports led investors to push down the stock.
So what
From the first quarter of 2014 through the first quarter of 2016, Skechers made a habit out of growing revenue by 20%-40% each quarter. Profits soared as well, leading the stock to post solid gains in both 2014 and 2015. The first sign of trouble came in October 2015, when the company missed analyst estimates for revenue. A series of misses since then, along with a significant slowdown in growth during recent quarters, has pushed the stock lower.
Skechers expects to produce roughly flat revenue during the fourth quarter, with growth in the international and retail businesses offset by weakness in the domestic wholesale business. Double-digit growth was never going to last forever, but the abrupt slowdown seemed to catch investors off guard.
Now what
Skechers stock recovered a bit after the election, but the company will need to prove to investors that it can return to growth for those gains to stick. Skechers will report its fourth-quarter results in early February.
The international business will be Skechers biggest growth opportunity going forward. The company sees China as a potential $1 billion opportunity, and a recent move to form a joint venture in South Korea should strengthen its business in that country. The days of rapid growth may be over for Skechers, but it still has plenty of growth potential.
10 stocks we like better than Skechers When investing geniuses David and Tom Gardner have a stock tip, it can pay to listen. After all, the newsletter they have run for over a decade, Motley Fool Stock Advisor, has tripled the market.*
David and Tom just revealed what they believe are the 10 best stocks for investors to buy right now... and Skechers wasn't one of them! That's right -- they think these 10 stocks are even better buys.
Click here to learn about these picks!
*Stock Advisor returns as of January 4, 2017
Timothy Green owns shares of Skechers. The Motley Fool owns shares of and recommends Skechers. The Motley Fool has a disclosure policy.