Why Silver Wheaton Shares Slumped 12% Today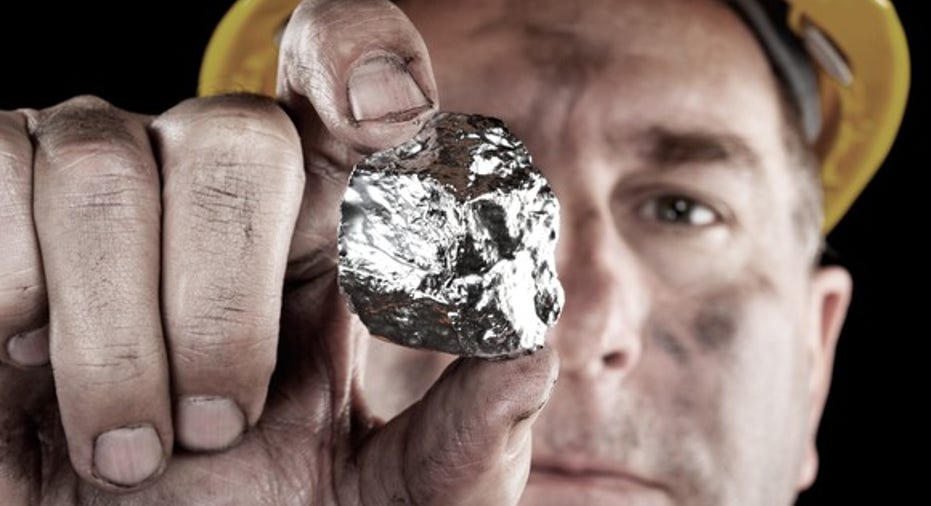 Silver Wheaton produced a big silver nugget of profit this morning -- but it wasn't quite big enough to please investors. Image source: Getty Images.
What happened
One year ago, silver seller Silver Wheaton Corp. (NYSE: SLW) slumped into the market to report a quarterly loss of $0.24. This morning, the miner reversed that loss, reporting a $0.19 per share profit instead -- but it wasn't enough. Investors slammed the stock for a loss, and Silver Wheaton shares is down 12.2% as of 1:20 p.m. EST.
So what
Why the perverse reaction to such apparently good news? Because investors wanted more. Analysts forecasting Silver Wheaton's quarter had promised them a $0.22 profit on $257.2 million in sales, and the $0.19 that it delivered (on only $233.2 million in sales, to boot) just didn't measure up to expectations.
Now what
The news isn't all bad. Even after Thursday's tumble, Silver Wheaton shares are still trading about 93% higher than they were a year ago. On the other hand, the same gains that have put so much extra "silver" in investors' pockets have put its stock in a perilous position.
With only $15 million in trailing profits recorded over the past year, shares now sell for the incredibly high valuation of 703 times trailing-12-month earnings (according to the latest data from S&P Global Market Intelligence). Against analysts' consensus estimate of a 35% long-term growth rate, that's a valuation that looks nigh on indefensible -- and this morning, investors failed to defend it.
Unless profits perk up right quickly next quarter, investors should probably prepare themselves for this stock to give them more of the same.
10 stocks we like better than Silver Wheaton When investing geniuses David and Tom Gardner have a stock tip, it can pay to listen. After all, the newsletter they have run for over a decade, Motley Fool Stock Advisor, has tripled the market.*
David and Tom just revealed what they believe are the ten best stocks for investors to buy right now... and Silver Wheaton wasn't one of them! That's right -- they think these 10 stocks are even better buys.
Click here to learn about these picks!
*Stock Advisor returns as of November 7, 2016
Fool contributorRich Smithdoes not own shares of, nor is he short, any company named above. You can find him onMotley Fool CAPS, publicly pontificating under the handleTMFDitty, where he currently ranks No. 336 out of more than 75,000 rated members.
The Motley Fool owns shares of Silver Wheaton. Try any of our Foolish newsletter services free for 30 days. We Fools may not all hold the same opinions, but we all believe that considering a diverse range of insights makes us better investors. The Motley Fool has a disclosure policy.