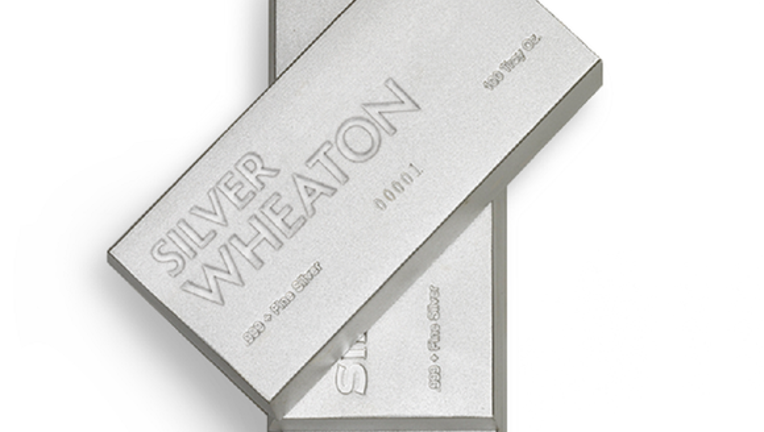 Thursday was a good day for the stock market, with major market benchmarks climbing around a third of a percent and clawing back from more substantial losses yesterday. Even with the potential for higher interest rates, the overall market seemed content to resume its march higher toward the 20,000 level for the Dow Jones Industrials, and some market participants seemed reluctant to sell when 2017 tax rates might be more preferable for taking profits than the current year's capital gains taxes.
Yet some sectors of the market didn't do well, and Silver Wheaton (NYSE: SLW), Melco Crown (NASDAQ: MPEL), and Pacific Biosciences of California (NASDAQ: PACB) were some of the worst performers. Below, we'll look more closely at these stocks to tell you why they did so poorly.
Image source: Silver Wheaton.
Higher rates tarnish Silver Wheaton
Silver Wheaton dropped 9% as the precious metals streaming company continued to lose ground for a second day. The Fed interest rate hike sent gold and silver prices into a tailspin, with gold bullion falling another $14, to $1,129 per ounce, and silver down $0.85 to $15.95 per ounce.
Higher interest rates often cause challenges for precious metals investors because bullion typically doesn't produce income, and so higher financing costs eat into potential profits and make it more difficult for investors to take positions for extended periods of time. With inflation still firmly under control and stock markets hitting record highs, Silver Wheaton isn't likely to see interest in gold and silver pick up for safe-haven purposes until something happens to dispel the almost giddy optimism in the financial markets more broadly.
Melco Crown investors sell out
Melco Crown was down 6% after news that one of its founding investors would seek to sell a substantial portion of its holdings in the Macau casino specialist. Crown Resorts has agreed to sell almost 41 million shares of Melco Crown, which the casino company will resell in the form of 13.6 million American depositary shares. Crown will also enter into a swap transaction with fellow partner Melco Leisure and Entertainment Group.
The joint moves will reduce Crown's stake in Melco Crown, but analysts noted that Crown had already become less of an active participant in the operations of the Macau casino company. Even with executives making positive comments about the move, investors seemed troubled by greater liquidity on the market.
Roche cuts Pacific Biosciences loose
Finally, Pacific Biosciences of California plunged 44%. The maker of diagnostic products said Thursday morning that it had terminated its agreement with Roche Diagnostics. Under the agreement, the two companies had agreed to allow for the development, commercialization, and licensing of diagnostic products based on Pacific Biosciences' single molecule, real-time technology. The three-year-old agreement had resulted in the development of the Sequel sequencing platform, and Pacific Biosciences will retain the right to commercialize products based on that platform in the clinical research and sequencing market.
CEO Michael Hunkapiller said that, "while we are disappointed with Roche's decision to terminate the agreement, we are already familiar with this [clinical research and sequencing] market, and Roche's decision does not significantly change our near-term plans for expanding our business." Nevertheless, the move came as a shock to investors, and Pacific Biosciences will have to work hard to find other partners to help it achieve its full potential.
10 stocks we like better than Silver Wheaton When investing geniuses David and Tom Gardner have a stock tip, it can pay to listen. After all, the newsletter they have run for over a decade, Motley Fool Stock Advisor, has tripled the market.*
David and Tom just revealed what they believe are the 10 best stocks for investors to buy right now... and Silver Wheaton wasn't one of them! That's right -- they think these 10 stocks are even better buys.
Click here to learn about these picks!
*Stock Advisor returns as of Nov. 7, 2016
Dan Caplinger has no position in any stocks mentioned. The Motley Fool owns shares of Silver Wheaton. The Motley Fool recommends Pacific Biosciences of California. Try any of our Foolish newsletter services free for 30 days. We Fools may not all hold the same opinions, but we all believe that considering a diverse range of insights makes us better investors. The Motley Fool has a disclosure policy.