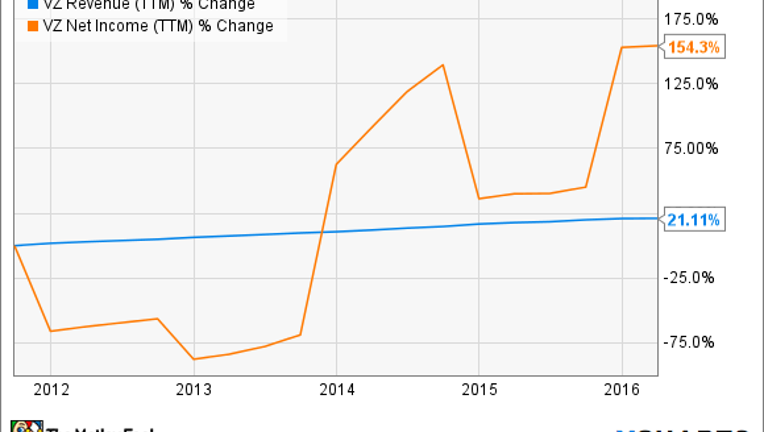 Image source: Getty Images.
What: Shares of wireless giant Verizon Communications Inc. have jumped 20.9% so far in 2016, according to data provided by S&P Global Market Intelligence, as investors search for safety among slowing global growth.
So what: Verizon has benefited from the market's search for companies with consistent earnings and dividend payments. You can see below that over the past five years Verizon has managed to grow its top and bottom lines, holding off competitors offering a lower-cost product.
VZ Revenue (TTM) data by YCharts.
In the first quarter, Verizon was able to add 640,000 postpaid wireless customers, 98,000 Fios internet, and 36,000 Fios video customers. As a technology leader with capital investment in place -- that competitors have a tough time matching -- the business remains in a solid strategic position at the high end of the telecom market.
Now what: Despite Verizon's rising stock in 2016, shares still trade at just 12.7 times trailing earnings with a 4% dividend yield. That's still a reasonable value. This is especially true when you consider that Verizon will be a first mover in 5G, which it is already testing on a pre-commercial basis in limited states. The 5G launch is expected next year and this will be the next growth phase for Verizon.
Given the value, strong competitive moat, and growth potential, I don't think Verizon's shares are done moving higher. This is a great stock for investors, and with wireless communication only set to grow, I'll be a shareholder for a long time to come.
The article Why Shares of Verizon Communications Inc. Have Jumped 21% in 2016 originally appeared on Fool.com.
Travis Hoium owns shares of Verizon Communications. The Motley Fool owns shares of and recommends Verizon Communications. Try any of our Foolish newsletter services free for 30 days. We Fools may not all hold the same opinions, but we all believe that considering a diverse range of insights makes us better investors. The Motley Fool has a disclosure policy.
Copyright 1995 - 2016 The Motley Fool, LLC. All rights reserved. The Motley Fool has a disclosure policy.