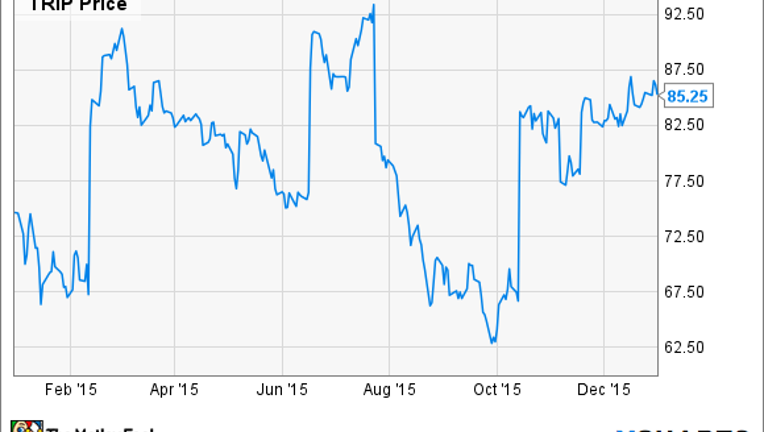 What:Shares of travel advisory serviceTripAdvisor climbed 15% last year according to S&P Capital IQ. As you can see from the chart below, it was a rocky year for the stock, and it had to overcome a number of small earnings misses with the help of consolidation in the industry to post a gain.
So what:TripAdvisor's stock got its first big jolt of the year in February when it reported fourth-quarter earnings, saying that revenue increased 35% to $288 million, topping expectations of $285.1 million. Earnings of $0.35 per share came up short of estimates at $0.37, but investors overlooked that and sent shares up 22%. TripAdvisor stock may have also benefited fromExpedia'sannouncement that it would acquire Orbitz for $1.6 billion. Though Expedia spun off TripAdvisor just a few years ago, there has been widespread consolidation in the industry since then, with Expedia's andPriceline.com's string of recent acquisitions having created somewhat of a duopoly in travel-booking.
The stock faded in the months following, but got a boost in June when TripAdvisor partnered withMarriott Internationalto list its hotels on TripAdvisor's Instant Booking platform. Building out that platform is a key component of the company's growth strategy as it seeks to expand beyond reviews and ads. Shares jumped 14% on the news.
However, soon after that the stock tumbled on a weak second-quarter earnings report. Revenue jumped 25% to $405 million, short of estimates at $413 million, while earnings per share of $0.54 missed the mark by a penny. Shares dropped 13% as a result.
Finally, TripAdvisor shares shot up 26% on October 14 when the company made a similar tie-up with Priceline to list some of its properties on TripAdvisor's site.
Now what:Going into 2016, TripAdvisor has momentum from its deals with Priceline and Marriott, and the Instant Booking platform may offer the greatest potential for revenue growth. The company has succeeded in developing a niche in the travel business, separating itself from its rivals. Monthly visitors have reached 350 million, growing 23% year-over-year, and all of its business segments are improving. At a P/E of 50, shares may be due to cool off for a bit, but the business should continuing growing solidly over the long term.
The article Why Shares of TripAdvisor Inc. Jumped 15% in 2015 originally appeared on Fool.com.
Jeremy Bowman has no position in any stocks mentioned. The Motley Fool owns shares of and recommends Priceline Group and TripAdvisor. The Motley Fool recommends Marriott International. Try any of our Foolish newsletter services free for 30 days. We Fools may not all hold the same opinions, but we all believe that considering a diverse range of insights makes us better investors. The Motley Fool has a disclosure policy.
Copyright 1995 - 2016 The Motley Fool, LLC. All rights reserved. The Motley Fool has a disclosure policy.