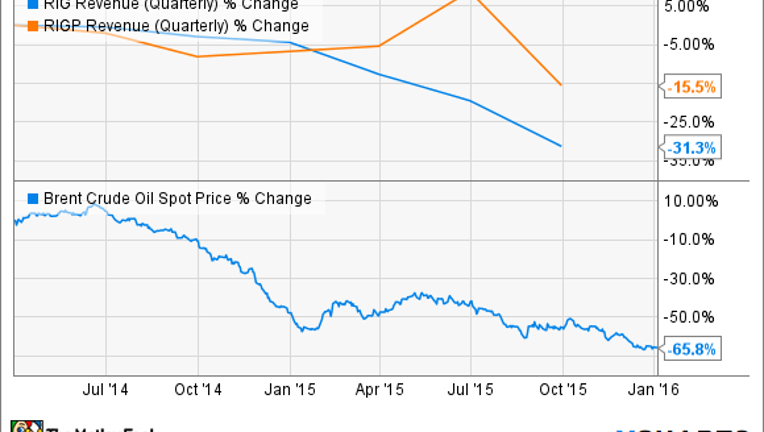 What: Shares of offshore driller Transocean LTD and partner company Transocean Partners LLC dropped 13.8% and 15.8%, respectively, in December as pressure on oil prices continued.
So what: The problems for offshore drillers simply got worse in December. Oil prices haven't showed any signs of recovery and actually moved lower to end 2015. That resulted in energy companies slashing capital budgets even further, which means fewer contracts for offshore drillers. In the meantime, Transocean and Transocean Partners are eating through the backlog they have with explorers and revenue is starting to decline because they can't replace that backlog.
RIG Revenue (Quarterly) data by YCharts.
Now what: The market dynamic for offshore drillers is only getting worse and only sharply higher oil prices can save them. But the more time goes on, the less clear it is as to when oil prices will rise. In early 2015, it seemed obvious that $100 oil would return by the end of the year, but we insteadended the year with oil near $35 per barrel. Prices that low are terrible for offshore drillers, and until we see a major turnaround, I wouldn't buy offshore drillers because we don't know when they may hit bottom.
The article Why Shares of Transocean LTD and Transocean Partners LLC Plunged in December originally appeared on Fool.com.
Travis Hoium has no position in any stocks mentioned. The Motley Fool has no position in any of the stocks mentioned. Try any of our Foolish newsletter services free for 30 days. We Fools may not all hold the same opinions, but we all believe that considering a diverse range of insights makes us better investors. The Motley Fool has a disclosure policy.
Copyright 1995 - 2016 The Motley Fool, LLC. All rights reserved. The Motley Fool has a disclosure policy.