Why Shares of Tidewater Slid More Than 24% in November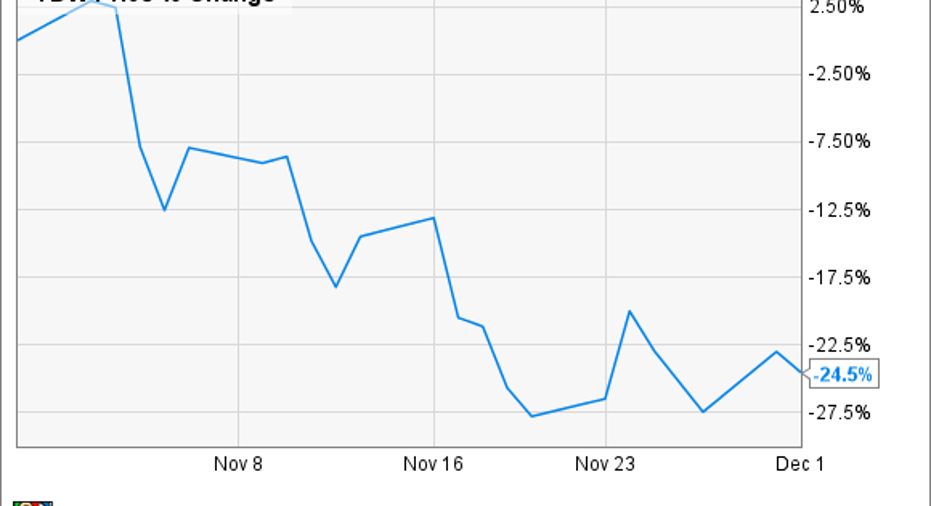 What: Shares of Tidewater declined more than 24% in the month of November after posting a sizable loss during its quarterly earnings report.
So what: In the grand scheme of things, the headline-grabbing $0.93-per-share loss doesn't exactly tell the whole story. More than two-thirds of that loss -- $0.67 per share -- was related to a non-cash impairment of assets, which doesn't have a huge effect on the day-to-day operations of the business. If we were to back out losses from impairments, restructuring charges, and foreign exchange losses, Tidewater's operations posted a loss of $0.01 per share.
Despite the not-as-bad-as-advertised earnings, the company still saw a pretty significant decline following its earnings results. It also doesn't help Tidewater's case that the oil and gas market remains weak and, more specifically, the market for ocean support vessels looks oversupplied. Today, there are more than six active ocean support vessels per active and under-construction rigs. This is a pretty large uptick from 2008, when there were fewer than four vessels per rig on the market. This puts a lot of pressure on dayrates and utilization rates across the industry.
Now what: Without a significant rebound in oil prices and the subsequent increase in offshore drilling, Tidewater will likely continue to struggle with an oversupplied market. While there is a slew of older vessels on the market, even removing those that are more than 25 years old might not be enough to clear the glut of available vessels with so little rig activity right now.
Tidewater isn't out of the woods yet, and even though its shares have declined more than 77% this year, it would not be shocking to see continued weakness for some time.
The article Why Shares of Tidewater Slid More Than 24% in November originally appeared on Fool.com.
Tyler Crowe has no position in any stocks mentioned.You can follow him at Fool.comor on Twitter@TylerCroweFool.The Motley Fool has no position in any of the stocks mentioned. Try any of our Foolish newsletter services free for 30 days. We Fools may not all hold the same opinions, but we all believe that considering a diverse range of insights makes us better investors. The Motley Fool has a disclosure policy.
Copyright 1995 - 2015 The Motley Fool, LLC. All rights reserved. The Motley Fool has a disclosure policy.