Why Shares of The Hain Celestial Group, Inc. Fell 14% in November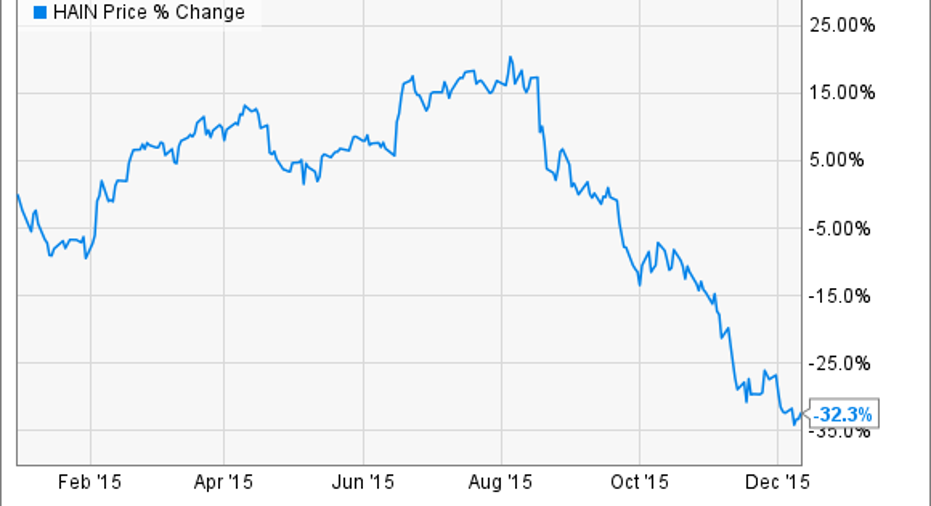 Image source: www.celestialseasonings.com.
What:Shares of The Hain Celestial Groupfell 14.3% during the month of November, according toS&P Capital I.Q.data.
So what:The manufacturer and distributor of natural and organic products watched its stock continue to deteriorate last month, after an abrupt course reversal this summer. At one point, the "HAIN" symbol had gained nearly 23% in 2015, but the year-to-date tally looks quite different at present:
Investors have recently questioned the company's growth prospects as competition in the natural and organic foods market intensifies among fellow suppliers. There's also some trepidation regarding the competitive pressures that major customers such as Whole Foods Market face. As if on cue, Hain's fiscal first-quarter 2016 earnings, released Nov. 5, revealed a revenue increase of just 9%, breaking a five-year streak of quarterly double-digit sales increases.
The company attributed its revenue softness to a weak quarter in the U.S., in which sales dipped 4.6% against Q1 2015. Management cited four specific factors behind the drop: lower consumption of natural foods during the quarter, unprofitable baby and nut butter club programs from the prior year that weren't repeated, lost sales related to an issue with a single distributor, and currency effects from the "Ella's Kitchen" organic baby foods division's U.K. sales.
Now what:Despite these recent obstacles to faster revenue growth, Hain's management identified several factors during its earnings conference call with analysts that will benefit the company in the coming year. One of the most interesting is the continuing evolution of Hain's "channel agnostic" strategy. Essentially, as organic and natural products transition to the mainstream, management believes it has an opportunity to broaden product distribution outside of its traditional channel of organic grocers like Whole Foods.
Thus, during the earnings call, CEO Irwin Simon declared that "wherever there is a cash register... or e-commerce, I want a Hain product." As an example, Simon cited the fact that the company's business with Amazon is growing at the phenomenal rate of 39% annually, and that Amazon is now its No. 1 channel for baby product sales.
At the moment, investor skepticism regarding the natural and organic products market, more than any other factor, seems to be a weight on Hain's stock price. The company's fiscal 2016 forecast calls for energetic growth -- an increase of between 10%-12% in total revenue (right around the $3.0 billion mark), and earnings of $2.11-$2.26 per diluted share, which would represent an improvement of between 12%-20%. Hitting these targets as the next three quarters roll forward would form the base for a share rebound in 2016.
The article Why Shares of The Hain Celestial Group, Inc. Fell 14% in November originally appeared on Fool.com.
John Mackey, co-CEO of Whole Foods Market, is a member of The Motley Fool's board of directors. Asit Sharma has no position in any stocks mentioned. The Motley Fool owns shares of and recommends Hain Celestial and Whole Foods Market. Try any of our Foolish newsletter services free for 30 days. We Fools may not all hold the same opinions, but we all believe that considering a diverse range of insights makes us better investors. The Motley Fool has a disclosure policy.
Copyright 1995 - 2015 The Motley Fool, LLC. All rights reserved. The Motley Fool has a disclosure policy.