Why Shares of the 3 Most Valuable U.S. Airlines Soared in November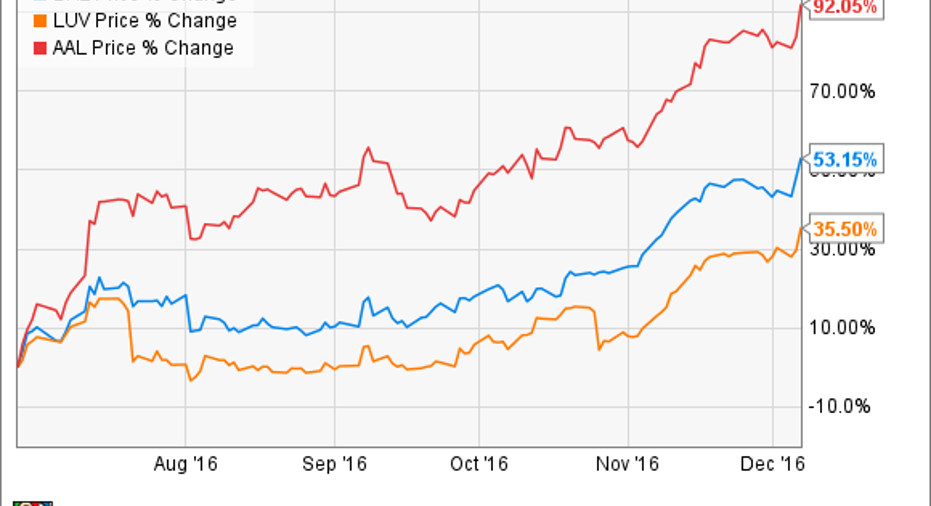 Delta Air Lines (NYSE: DAL), Southwest Airlines (NYSE: LUV), and American Airlines (NASDAQ: AAL) are the three most valuable airlines in the country. Their market capitalizations range from $25 billion all the way up to $37 billion. All three stocks surged during November, posting double-digit share price gains.
Southwest Airlines stock had the biggest increase, rising 16.4% last month. Delta and American weren't far behind, posting monthly gains of 15.3% and 14.4%, respectively, according to data from S&P Global Market Intelligence.
Delta Air Lines, American Airlines, and Southwest Airlines November Stock Performance, data by YCharts.
Mixed signals on the unit revenue front
Airline stocks gradually fell out of favor during 2015 and the first half of 2016, as airlines seemed unable to stem a series of unit revenue declines. However, in recent months, many airlines have indicated that they see a light at the end of the tunnel, with unit revenue likely to start growing again by early 2017. This has driven a sharp recovery in airline stocks.
During November itself, airline investors got mixed news on the unit revenue front. On the positive side, American Airlines raised its fourth-quarter unit revenue guidance range by 0.5 percentage points. It now expects revenue per available seat mile (RASM) to decline 0.5%-2.5% year over year for the full quarter.
On the other hand, in early November, Delta Air Lines reported a 6.5% decline in passenger revenue per available seat mile for the prior month. The company had already warned investors that its October unit revenue would be weak, but this result was still disappointing. Meanwhile, Southwest maintained its downbeat guidance for Q4 RASM to decline 4%-5% year over year.
It's all about Buffett
Thus, improving fundamentals weren't a major driver of rising stock prices at Delta Air Lines, Southwest Airlines, and American Airlines last month.
Instead, news that Warren Buffett's Berkshire Hathaway had invested in all four of the largest U.S. airlines was a key catalyst for the rally in major airline stocks. On Nov. 14, regulatory filings revealed that Berkshire had invested in American and Delta -- as well as United Continental -- during Q3. Warren Buffett quickly announced that the conglomerate had added shares of Southwest Airlines more recently.
Airline stocks got a big vote of confidence from Warren Buffett last month. Image source: The Motley Fool.
Many investors follow Warren Buffett's investing activities closely. Even though the initial investments in American, Delta, and United were almost certainly made by one of Buffett's lieutenants, they represented a sort of "seal of approval" for airline stocks.
This revelation had a particularly big impact because Buffett has urged investors to stay away from airline stocks for decades. So in presenting the major airlines as an attractive investing opportunity, he was not by any means preaching to the choir.
Donald Trump's surprise victory in the U.S. presidential election may have also given a boost to airline stocks. Some pundits expect him to jump-start the economy through fiscal stimulus, which could help the airlines get unit revenue growing again.
Time to produce
There has been a huge change in investor sentiment about airlines in the past six months. Since bottoming out in late June -- shortly after the Brexit vote -- American Airlines stock has nearly doubled. Shares of Delta and Southwest have also staged impressive rallies, rising 53% and 36%, respectively.
Major Airlines Stock Performnace, June 26-December 7: data by YCharts.
Despite this strong stock performance, unit revenue has continued to decline at all three airlines. In fact, only American Airlines has made notable progress toward returning to unit revenue growth. Meanwhile, fuel prices have started to rise again and all three airlines have handed out big pay raises to various labor groups.
Thus, it's time for American Airlines, Delta Air Lines, and Southwest Airlines to deliver on investors' expectations. Unless they start reporting solid unit revenue growth within the next few quarters, the recent share price gains may prove to be short lived.
10 stocks we like better than American Airlines Group When investing geniuses David and Tom Gardner have a stock tip, it can pay to listen. After all, the newsletter they have run for over a decade, Motley Fool Stock Advisor, has tripled the market.*
David and Tom just revealed what they believe are the 10 best stocks for investors to buy right now... and American Airlines Group wasn't one of them! That's right -- they think these 10 stocks are even better buys.
Click here to learn about these picks!
*Stock Advisor returns as of Nov. 7, 2016
Adam Levine-Weinberg is long January 2017 $40 calls on Delta Air Lines. The Motley Fool owns shares of and recommends Berkshire Hathaway (B shares). Try any of our Foolish newsletter services free for 30 days. We Fools may not all hold the same opinions, but we all believe that considering a diverse range of insights makes us better investors. The Motley Fool has a disclosure policy.