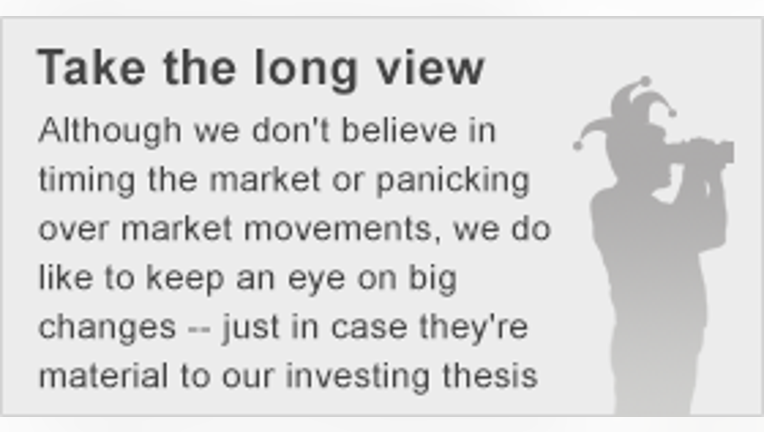 Image source: Pinnacle Entertainment.
What: If you checked your brokerage account at the beginning of May, you may have been surprised to see shares of Pinnacle Entertainment Inc. down 69% from a month earlier. Don't worry, the company didn't fall apart, but it did make a transaction that will change your portfolio.
So what: The change in Pinnacle Entertainment's share price stems from its sale of real estate assets to Gaming and Leisure Properties . As part of the sale, a "new" Pinnacle Entertainment was formed and shareholders got one share in the new company (which is what trades on the market today). The "old" company was acquired by Gaming and Leisure Properties and shareholders were given 0.85 shares of the company for each share of Pinnacle. As a result, each share of the old Pinnacle Entertainment turned into one share of the new Pinnacle Entertainment and 0.85 shares of Gaming and Leisure Properties.
Now what: When it was all said and done, if you held shares of Pinnacle Entertainment at the beginning of April, you actually had more value by the end of the month given where stock prices ended up. It just took a convoluted number of transactions to get there.
The decision investors need to make now is what they want to keep. Pinnacle Entertainment is now a gaming operations company with very little real estate, and Gaming and Leisure Properties is a real estate investment trust with no real gaming exposure. Depending on what your investment thesis was on Pinnacle Entertainment, it might be time to adjust your portfolio.
The article Why Shares of Pinnacle Entertainment Inc. Were Down Last Month originally appeared on Fool.com.
Travis Hoium has no position in any stocks mentioned. The Motley Fool has no position in any of the stocks mentioned. Try any of our Foolish newsletter services free for 30 days. We Fools may not all hold the same opinions, but we all believe that considering a diverse range of insights makes us better investors. The Motley Fool has a disclosure policy.
Copyright 1995 - 2016 The Motley Fool, LLC. All rights reserved. The Motley Fool has a disclosure policy.