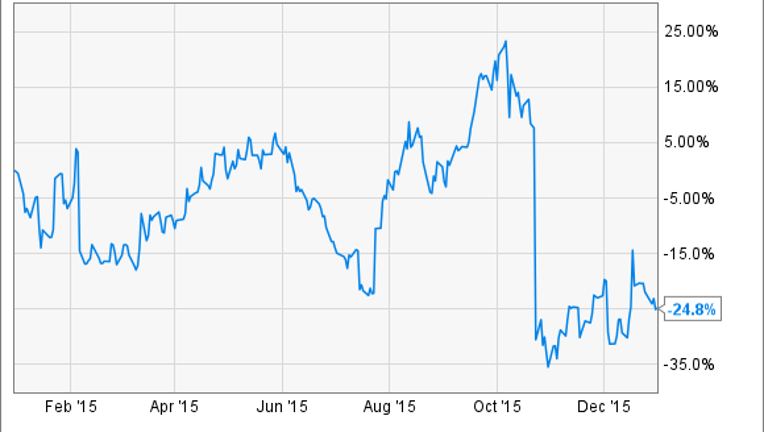 What: Shares of Internet radio company Pandora Media slumped in 2015, declining by 24.8%, according toS&P Capital IQdata. The stock was up for the year going into late October, but a mixed earnings report, coupled with weak guidance, sent the stock tumbling.
So what: In October, Pandora reported its fiscal third-quarter results. Revenue grew by 30.1% year over year, missing analyst estimates slightly, while non-GAAP EPS of $0.10 was in-line with expectations. The number of active listeners rose slightly year over year, to 78.1 million, but it was down sequentially, with 79.4 million active listeners at the end of the second quarter.
The big news, though, was Pandora's guidance. The company expects fourth-quarter revenue to be between $325 million and $330 million, up 21%-23% year over year, but well short of analyst expectations. On average, analysts expected fourth-quarter revenue of $351.9 million. With the company giving no explanation in its earnings release as to why its guidance was so far below expectations, investors punished the stock.
In mid-December, the Copyright Royalty Board announced its decision to raise the rate that Pandora pays per song streamed. While the increase was less than expected, it will still boost Pandora's per-song royalty rate by about 15%, according to the company. The stock initially surged on the news, but has since slumped below pre-announcement levels.
Now what: Throughout its history, Pandora has failed to turn a GAAP profit, and with the number of listeners seemingly peaking, in addition to higher royalty rates, it's difficult to imagine how the company will find a way to become profitable. During the third quarter, while revenue grew by about 30% year over year, content acquisition costs jumped by 90%, while operating expenses rose by 43%.
With guidance calling for slower-than-expected revenue growth, the rapid growth that has given investors reason to be optimistic in the past seems to be petering out. At some point, Pandora will need to figure out how to be a profitable company. Given the steep decline following the third-quarter earnings report, the patience of investors seems to be wearing thin.
The article Why Shares of Pandora Media Inc. Slumped 25% in 2015 originally appeared on Fool.com.
Timothy Green has no position in any stocks mentioned. The Motley Fool owns shares of and recommends Pandora Media. Try any of our Foolish newsletter services free for 30 days. We Fools may not all hold the same opinions, but we all believe that considering a diverse range of insights makes us better investors. The Motley Fool has a disclosure policy.
Copyright 1995 - 2016 The Motley Fool, LLC. All rights reserved. The Motley Fool has a disclosure policy.