Why Shares of Office Depot Inc. Fell 13.5% in November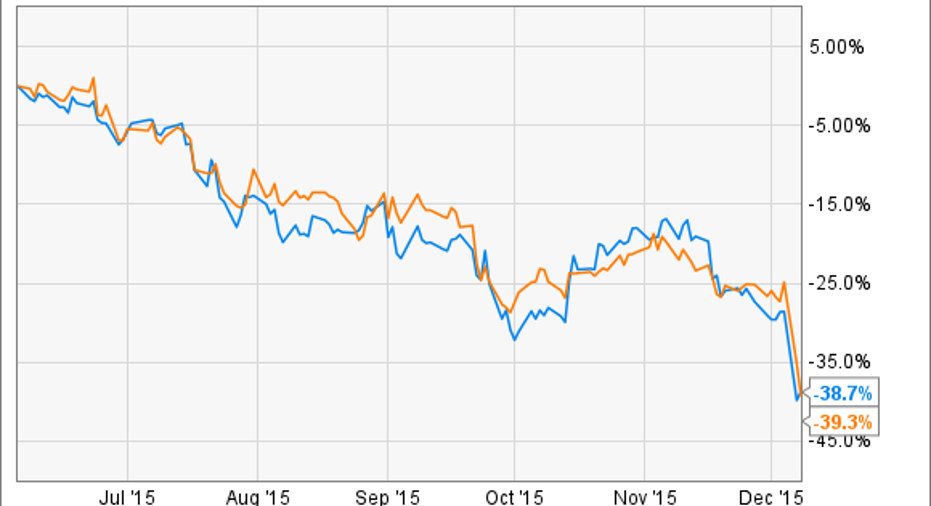 What: Shares of Office Depot slumped 13.5% in November, according toS&P Capital IQdata, on concerns that regulatory agencies would challenge its acquisition by rival Staples . That concern became a reality on Dec. 7, when the FTC filed a lawsuit to block the proposed merger.
So what: Staples announced in February of this year that it intended to acquire Office Depot, offering $7.25 in cash and 0.2188 of a share of Staples stock for each share of Office Depot, valuing the deal at $11 per share at the time. The retail operations of both companies face plenty of competition, but the commercial side, where the companies sell supplies to large organizations, is far less competitive.
Both the FTC and European regulators scrutinized the deal, concerned that a merger would raise costs for large customers. The American Antitrust Institute published a report in July concluding that higher prices for large contract customers could be an outcome of the merger.
Uncertainty surrounding the deal led both Office Depot and Staples stock to decline over the past few months:
Now what: On Dec. 7, the FTC announced that it was filing to block the deal. The agency cited the fact that Staples and Office Depot are often the top two bidders for large business customers and that expansion into the market by other office-supply vendors or online retailers would not be sufficient to counteract the anti-competitive effects of the merger. Shares of both Office Depot and Staples tumbled on the news.
Assuming that the deal doesn't go though, Office Depot, which has long played second fiddle to Staples, will need to continue its turnaround effort. The company gained additional scale following its own acquisition of Office Max, but Office Depot has historically been far less profitable than its rival, and the company posted an annual loss in 2012, 2013, and 2014.
It's still possible that the FTC will drop its lawsuit if Staples makes additional concessions, but the odds that the merger will go through are now much longer.
The article Why Shares of Office Depot Inc. Fell 13.5% in November originally appeared on Fool.com.
Timothy Green has no position in any stocks mentioned. The Motley Fool has no position in any of the stocks mentioned. Try any of our Foolish newsletter services free for 30 days. We Fools may not all hold the same opinions, but we all believe that considering a diverse range of insights makes us better investors. The Motley Fool has a disclosure policy.
Copyright 1995 - 2015 The Motley Fool, LLC. All rights reserved. The Motley Fool has a disclosure policy.