Why Shares of Las Vegas Sands, Wynn, and Melco Crown Dipped in December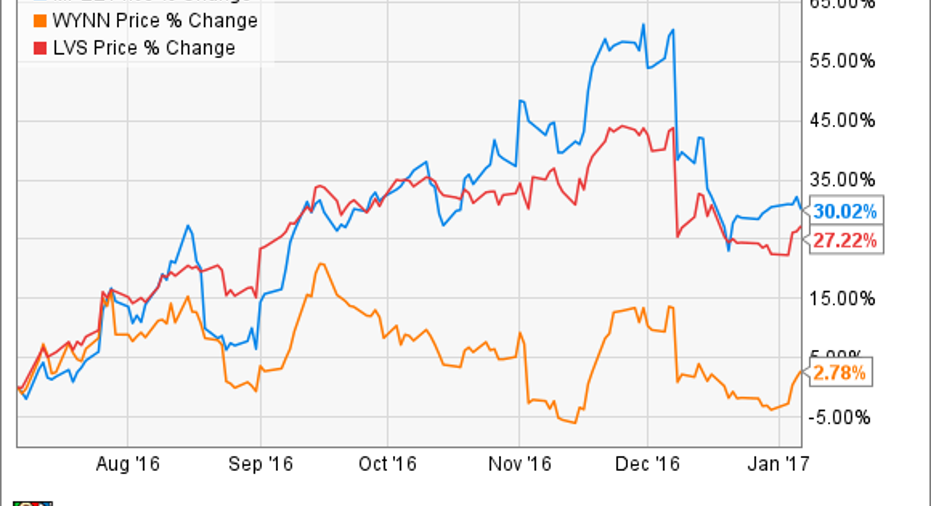 Image source:Getty Images.
What happened
Shares ofWynn Resorts(NASDAQ: WYNN),Las Vegas Sands(NYSE: LVS), andMelco Crown(NASDAQ: MPEL) all dropped more than 10% in December, according toS&P Capital IQdata, on news of increased regulation in Macau that would limit ATM withdrawals. The news followed a few months of good reports out of the Chinese gambling hub, which led each of these stocks to gain considerably during the second half of the year. However, those gains were almost completed wiped out in December.
So what
Following two years of year-over-year gambling revenue declines in Macau in each of the 26 months between April 2014 and July 2016, things have finally started to turn around there. December marked the fifth month in a row of year-over-year gains in total gambling revenue in the market. The result was welcomed share-price growth for these three companies that had each been watching their stock tank over the prior two years.
The reason for Macau's drop starting in 2014 was that the Chinese government stepped in to more heavily regulate the area, which is a "special administrative region" of China, after Portugal gave it back to China in 1999. The new policies included restrictions on visitation and gambling spend in an attempt to discourage high-dollar-amount and VIP gambling in the city, the only place in China where gambling is legal.
Things started to turn around with August's gambling numbers and the stocks began to benefit, but then a report in a Chinese newspaper claimed that thegovernment was planning a limit on ATM withdrawals in Macau. Following that report on Dec. 8, each of these three stocks tanked.
The report turned out to be correct, though the limits were less restrictive than many feared. In the end, those with ATM cards issued within Mainland China would be restricted toHK$5,000 (US$644) within one transaction. The daily limit was not changed, so presumably someone would be able to make multiple transactions throughout the day to still get to the daily limit of US$1,450. Regardless, shares of these companies haven't moved back up much since their initial drop.
Now what
Even though the regulation turned out to be less restrictive than expected, the stocks have still remained depressed -- probably because investors believe that the Macau rally could easily be stopped by increased regulation once again.That is a fair assessment, and history shows that Beijing is willing to make swift and broad policy toward Macau that restricts gambling or visitation accessibility in Macau, which could continue to negatively affect these three stocks.
Still, Macau's regrowth in the past five months looks likely to continue throughout 2017. Other than growing gambling revenue, Macau has also seen a continued rise in number of visitors, which should help the continued trend toward mass-market and non-gambling entertainment growth. There is definitely the chance for more regulation or other forces that could cut this turnaround short, but with what looks like a more diversified economy with more visitors rather than just higher-net-worth players, Macau's rebound could continue to boost these stocks back up throughout 2017
10 stocks we like better than Wynn Resorts When investing geniuses David and Tom Gardner have a stock tip, it can pay to listen. After all, the newsletter they have run for over a decade, Motley Fool Stock Advisor, has tripled the market.*
David and Tom just revealed what they believe are the 10 best stocks for investors to buy right now... and Wynn Resorts wasn't one of them! That's right -- they think these 10 stocks are even better buys.
Click here to learn about these picks!
*Stock Advisor returns as of January 4, 2017
Seth McNew owns shares of Las Vegas Sands. The Motley Fool has no position in any of the stocks mentioned. The Motley Fool has a disclosure policy.