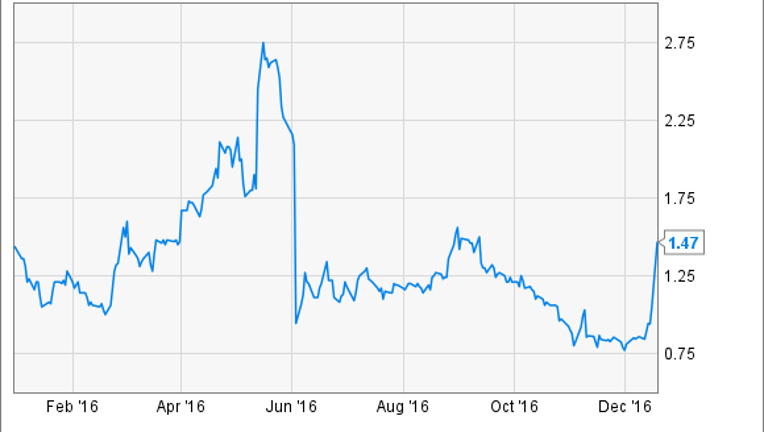 Image source: Globalstar.
What happened
Shares of satellite communications provider Globalstar (NYSEMKT: GSAT) surged on Monday following news that the Federal Communications Commission (FCC) has drafted a new proposed order in response to a revised proposal that Globalstar filed on Nov. 9. The stock was up 47% at 10:45 a.m. EST.
So what
Globalstar stock was hit hard earlier this year when its plan to use satellite signal frequencies for mobile broadband services was shot down by multiple FCC commissioners. Republican commissioner Ajit Pai suggested that the plan would give one company special rights, and large internet companies like Microsoft and Alphabet's Google raised concerns that it would cause interference with other mobile devices.
Globalstar filed a revised proposal on Nov. 9, with a modification made on Dec. 7. The company reported on Monday that the professional staff of the FCC had prepared a new proposed order for consideration by the commissioners in response to Globalstar's revised proposal.
In the press release announcing the news, Globalstar explains that its revised proposal addresses the major concerns with its plan:"Globalstar appreciates the recent favorable filings by interested parties and believes its Revised Proposal addresses all reasonable interference and policy-based concerns expressed in this lengthy proceeding. Globalstar's Revised Proposal provides significant protections to adjacent operations, expands the nation's broadband spectrum supply and will improve wireless broadband service for consumers in the United States."
Now what
There remains plenty of uncertainty around Globalstar's plan, especially with FCC chairman Tom Wheeler set to resign on Jan. 20. The incoming Trump administration will have two FCC seats to fill, and it's unclear how this will affect Globalstar's proposal. Wheeler recommended in May that the FCC approve the company's proposal.
Investors should expect continued volatility for Globalstar shares. A decision one way or another could send the stock soaring or plunging at the drop of a hat.
10 stocks we like better than Globalstar When investing geniuses David and Tom Gardner have a stock tip, it can pay to listen. After all, the newsletter they have run for over a decade, Motley Fool Stock Advisor, has tripled the market.*
David and Tom just revealed what they believe are the 10 best stocks for investors to buy right now... and Globalstar wasn't one of them! That's right -- they think these 10 stocks are even better buys.
Click here to learn about these picks!
*Stock Advisor returns as of Nov. 7, 2016
Suzanne Frey, an executive at Alphabet, is a member of The Motley Fool's board of directors. Timothy Green has no position in any stocks mentioned. The Motley Fool owns shares of and recommends GOOG and GOOGL. The Motley Fool owns shares of Microsoft. Try any of our Foolish newsletter services free for 30 days. We Fools may not all hold the same opinions, but we all believe that considering a diverse range of insights makes us better investors. The Motley Fool has a disclosure policy.