Why Shares of Fitbit Inc. Jumped Today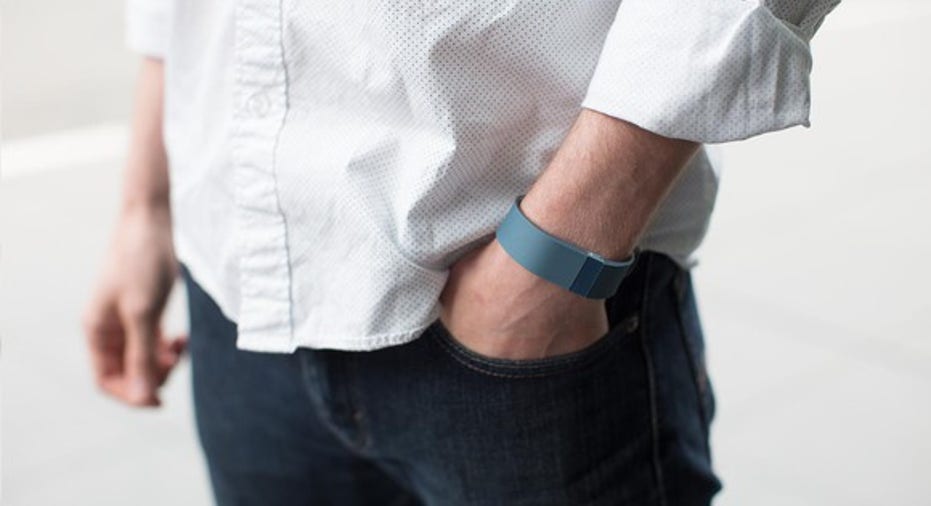 Image source:Fitbit.
What happened
Shares ofFitbit Inc.(NYSE: FIT)jumped as much as 10% during early trading hours Tuesday after the company announced an expanded partnership withUnitedHealth Group(NYSE: UNH)andQualcomm(NASDAQ: QCOM). The expanded program gives far more access for employees to use wearable fitness trackers, such as Fitbit's Charge 2 device, and get rewarded financially.
So what
UnitedHealth began piloting itsUnitedHealthcare Motion program earlier this year, a program that allows employees to wear a fitness tracking device and have their data sent securely back to UnitedHealth, via Qualcomm technology. If the employees meet certain activity goals, they can get rewarded in terms of up to $1,500 put into their health savings account (HSA, or health reimbursement account, HRA, depending on what system that state uses) over the course of the year.
The pilot only reachedsmall- to mid-size employers in 12 states, but as announced Tuesday, thenewly expanded partnershipmakes UnitedHealthcare Motion available in 40 states for any employer with more than 100 employees. The employers get a benefit from the program as well in terms of a premium increase cap for the following year, and could also benefit from significantly reduced employee health claims costs by more active employees, according research by Fitbit.
For Fitbit's part in all of this, it's Charge 2 tracker can now be updated to show the specific tracking metrics of the program (called F.I.T., which stands for Frequency, Intensity,and Tenacity).While the program is marketed as "bring your own device," or BYOD, Fitbit already looks to be a featured partner as it was mentioned in UnitedHealth and Qualcomm's joint press release about the expanded partnership.
Now what
Fitbit stock was hammered in 2016, falling more than 75% during the year. Much of the reason for bearish sentiment over the last year has been Fitbit's declining market share and slowing sales growth.
Going into 2017, Fitbit's healthcare partnerships are starting to look like a way forward for the company. Though its market share has declined in recent years, Fitbit holds a quarter of global market share, making it still the most widely used Fitness tracker based on the most recent numbers from theIDC. With this new partnership expansion, and other recent healthcare moves, such as the December announcement of a partnership with Medtronic (NYSE: MDT) that gives an easy activity tracking option for diabetes patients and shows correlation between activity and blood glucose management, this could be a much better year for Fitbit than last.
10 stocks we like better than Fitbit When investing geniuses David and Tom Gardner have a stock tip, it can pay to listen. After all, the newsletter they have run for over a decade, Motley Fool Stock Advisor, has tripled the market.*
David and Tom just revealed what they believe are the 10 best stocks for investors to buy right now... and Fitbit wasn't one of them! That's right -- they think these 10 stocks are even better buys.
Click here to learn about these picks!
*Stock Advisor returns as of Nov. 7, 2016
Seth McNew has no position in any stocks mentioned. The Motley Fool owns shares of and recommends Fitbit and Qualcomm. The Motley Fool owns shares of Medtronic. The Motley Fool recommends UnitedHealth Group. The Motley Fool has a disclosure policy.