Why Shares of e.l.f. Beauty Inc. Took a Hit Today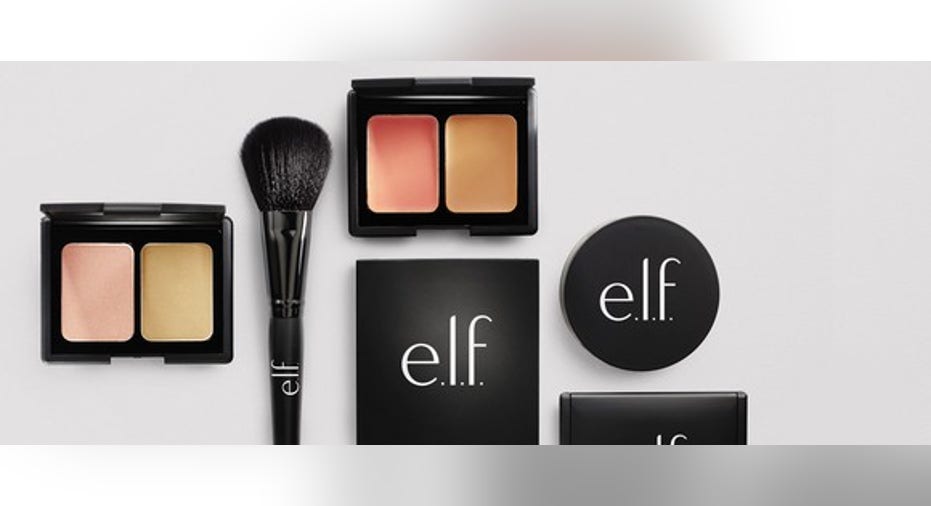 What happened
Makeup company e.l.f. Beauty, Inc. (NYSE: ELF), which just went public last September, saw its shares drop as much as 10% in early-morning trading today after the company posted its first-quarter earnings, which showed slowing revenue growth.
So what
Even though shares are dropping, the company's quarter actually looked strong. Sales in the quarter grew to $61 million, up 15%, year over year. Profits for the quarter swung to a positive $2.2 million, compared with a loss of $34 million in the same period last year.
Image source: e.l.f. Beauty.
However, the stock seems to be down today because the company's momentum in the last few quarters -- leading to a strong full-year 2016, reported in March, that included full-year sales up 20% over 2015 -- seems to be slowing. Additionally, the company paid less than 5% in taxes this quarter due to a tax benefit regarding special items like stock-option exercises; without that, net income would have been lower.
Now what
Still, the company's sales are growing impressively for this industry, and even though costs are also rising to support continued growth, the company expects adjusted earnings to also continue growing nicely in 2017:
| Metric | 2017 Outlook | 2016 Actual Results |
| --- | --- | --- |
| Sales | $285 million to $295 million | $230 million |
| Adjusted EBITDA | $61 million to $64 million | $54 million |
| Adjusted net income | $21 million to $23 million | $18 million |
| Adjusted pro forma diluted EPS | $0.40 to $0.43 | $0.36 |
Data source: e.l.f. Beauty. EBITDA = earnings before interest, taxes, depreciation, and amortization. EPS = earnings per share.
Another very positive part of the company's results is that gross margin expanded from 56% to 63%. This is a large jump in one year; if held, it could lead to much higher earnings in the future as costs eventually come down. With growing sales and gross margin, e.l.f. seems to be setting itself up well for future earnings, and today's stock-price drop could be a nice entry into what looks like one of the best beauty stocks to bet on in 2017.
10 stocks we like better than e.l.f. Beauty, Inc.When investing geniuses David and Tom Gardner have a stock tip, it can pay to listen. After all, the newsletter they have run for over a decade, Motley Fool Stock Advisor, has tripled the market.*
David and Tom just revealed what they believe are the 10 best stocks for investors to buy right now... and e.l.f. Beauty, Inc. wasn't one of them! That's right -- they think these 10 stocks are even better buys.
Click here to learn about these picks!
*Stock Advisor returns as of May 1, 2017
Seth McNew has no position in any stocks mentioned. The Motley Fool has no position in any of the stocks mentioned. The Motley Fool has a disclosure policy.