Why Shares of e.l.f. Beauty Inc are Getting a Lift Today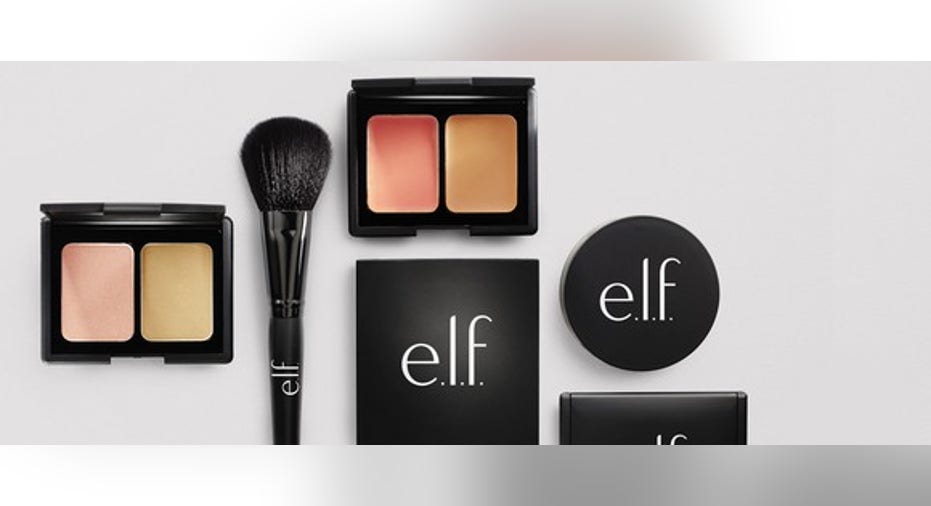 What happened
Shares ofe.l.f. Beauty Inc(NYSE: ELF)were up nearly 15% as of noon E.T. Thursday after the beauty and makeup company reported fourth-quarter and full-year 2016 earnings that were better than expectations.
So what
e.l.f. Beauty Inc. reported sales of $76.4 million for the quarter, up 17% year over year. Sales for the full year came in at $230 million, up 20% over 2015. The company beat analyst estimates with earnings of $6.6 million, or $0.13 per share for the quarter, compared with a loss of nearly $40 million in Q4 2015. For the full year, the company still posted a net loss of $497.5 million, but adjusted for one-time costs like initial public offering costs (since the company went public in 2016). Earnings were $0.36 per share. CEOTarang Amin said in the earnings release:
Image source: e.l.f. Beauty Inc.
Now what
Management believes that it has plenty of opportunity for growing market share in 2017 and beyond, saying in the earnings call that e.l.f. Beauty's share of thethe U.S. mass color cosmetics market increased from 2.7% at the end of 2015 to 3.4% at the end of 2016. The company plans to use its "Beauty Scape influencer program" that uses social media and on-site activations to build a larger following, as well as engaging what the company calls itsover 190,000 "Beauty Squad members."
Part of the reason e.l.f. Beauty was able to beat earning expectations for the recent quarter was an impressive rise in gross margin from 52% to 58%, which if maintained should help grow earnings nicely in 2017.For full year 2017, the company has guided for sales of as much as $295 million, which would be a 28% rise year over year, and adjusted earnings per share that could grow another 19% over 2016.
10 stocks we like better than e.l.f. Beauty, Inc.When investing geniuses David and Tom Gardner have a stock tip, it can pay to listen. After all, the newsletter they have run for over a decade, Motley Fool Stock Advisor, has tripled the market.*
David and Tom just revealed what they believe are the 10 best stocks for investors to buy right now... and e.l.f. Beauty, Inc. wasn't one of them! That's right -- they think these 10 stocks are even better buys.
Click here to learn about these picks!
*Stock Advisor returns as of February 6, 2017
Seth McNew has no position in any stocks mentioned. The Motley Fool has no position in any of the stocks mentioned. The Motley Fool has a disclosure policy.