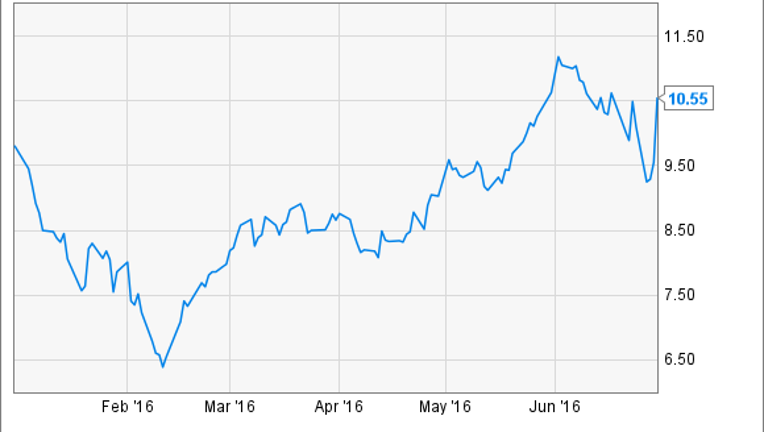 Image Source: Cypress Semiconductor.
What: Shares of Cypress Semiconductor surged on Thursday despite no major news. The stock has been extremely volatile so far this year, and Thursday's gains essentially reversed last week's decline. The stock closed up 10.5%.
So what: Shares of Cypress declined following the Brexit vote last week, and the stock rode the market recovery higher on Thursday. The stock has moved quite a bit in 2016 in both directions, driven by both market volatility and a couple of developments.
In January, Cypress provided weak first-quarter guidance along with its results, sending the stock lower despite a generally positive earnings report. Cypress announced in late April that it was acquiringBroadcom's Internet of Things unit for $550 million, along with the news that CEO T.G. Rodgers was stepping down.
Now what: With the market recovering strongly on Thursday, Cypress stock surged higher. Cypress is expected to report its second-quarter results in late July, and investors should be ready for the possibility of more volatility.
The article Why Shares of Cypress Semiconductor Surged 10.5% on Thursday originally appeared on Fool.com.
Timothy Green has no position in any stocks mentioned. The Motley Fool recommends Broadcom and Cypress Semiconductor. Try any of our Foolish newsletter services free for 30 days. We Fools may not all hold the same opinions, but we all believe that considering a diverse range of insights makes us better investors. The Motley Fool has a disclosure policy.
Copyright 1995 - 2016 The Motley Fool, LLC. All rights reserved. The Motley Fool has a disclosure policy.