Why Shares of Conn's Dropped 46% in 2016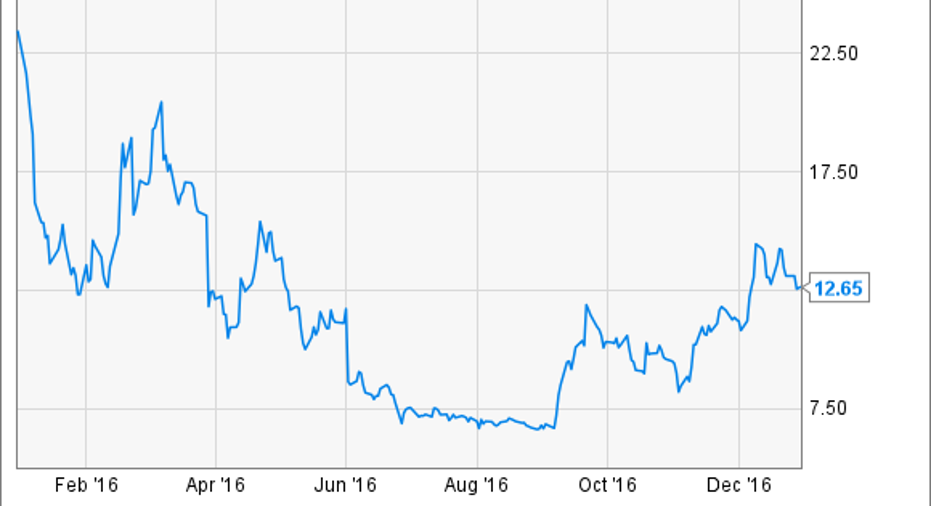 Image source: Conn's.
What happened
Shares of consumer electronics and furniture retailer Conn's (NASDAQ: CONN) tumbled 46% in 2016, according to data provided byS&P Global Market Intelligence. A combination of slumping comparable-store sales and continued losses in the credit business led to the decline.
So what
Conn's business model revolves around providing financing to its customers. During the third quarter of 2016, 94% of sales were either financed or rent-to-own, with 72% of sales financed through Conn's in-house financing arm. This business model hit major problems in 2014 when loose credit standards in previous years led to major credit losses, and the subsequent tightening of credit standards led to declines in comparable-store sales.
Comparable-store sales dropped 3.4%, 5.1%, and 10.1% during the first, second, and third quarters of 2016, respectively. The credit business posted a loss in each quarter, with a total loss before taxes of $141.4 million through the first nine months of the year. This more than wiped out the profit generated by the retail business, leading to a net loss.
Conn's continues to build new stores, so total revenue is declining more slowly than comparable-store sales. Still, the company faces the difficult challenge of returning the credit business to profitability, which inevitably means tightening credit standards, while not negatively affecting the retail business, which is driven primarily by the credit business. The company clearly didn't strike the right balance in 2016.
Now what
Conn's pointed to changes in its underwriting as the main driver behind the steep drop in comparable-store sales during the third quarter. Even adjusting for these changes, Conn's estimates that comparable sales would have still dropped by 0.1%. Fixing the credit business is necessary for Conn's to survive in the long run, but the company's efforts are having a massive negative impact on the retail business.
The credit business doesn't appear to be improving, with the segment's loss growing during the third quarter on a year-over-year basis on lower revenue. Through the first nine months of 2016, credit losses nearly doubled. It will take time for the underwriting changes to percolate through Conn's credit portfolio, but there appears to be little reason for optimism at the moment.
10 stocks we like better than Conn's When investing geniuses David and Tom Gardner have a stock tip, it can pay to listen. After all, the newsletter they have run for over a decade, Motley Fool Stock Advisor, has tripled the market.*
David and Tom just revealed what they believe are the 10 best stocks for investors to buy right now...and Conn's wasn't one of them! That's right -- they think these 10 stocks are even better buys.
Click here to learn about these picks!
*Stock Advisor returns as of January 4, 2017.
Timothy Green has no position in any stocks mentioned. The Motley Fool has no position in any of the stocks mentioned. The Motley Fool has a disclosure policy.