Why Shares of Applied Materials Inc. Jumped in November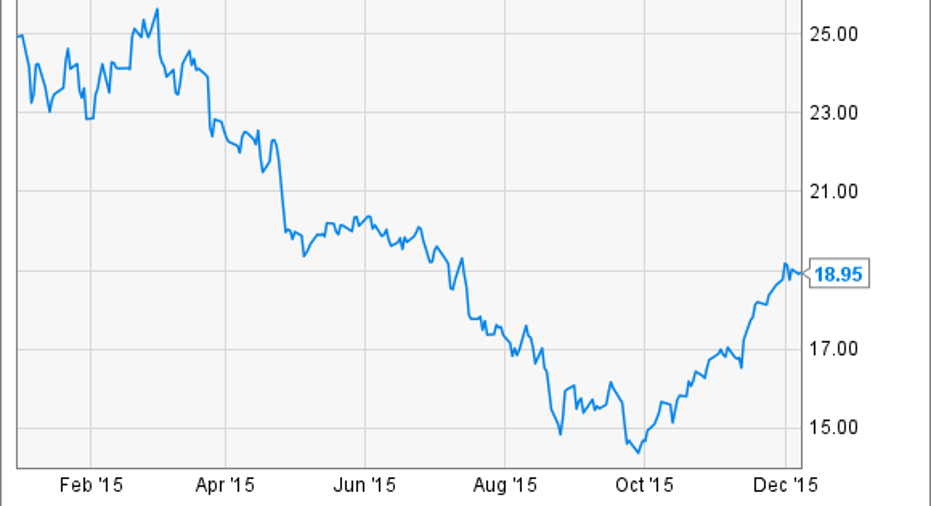 What: Shares of semiconductor equipment vendor Applied Materials rose by 11.9% during November, according toS&P Capital IQdata. The stock is still down nearly 25% year to date, but the company's fourth-quarter results and its outlook for 2016 were better than expected.
So what: Applied Materials reported fourth-quarter revenue of $2.37 billion, up 5% year over year but just shy of the average analyst estimate. Orders were up 7% year over year, and non-GAAP EPS came in at $0.29, up from $0.27 during the same period last year, and in line with analyst expectations.
Given major capital spending cuts at both TSMC and Intel, as well as steep price declines in the DRAM and NAND markets, expectations were low regarding Applied Materials' outlook. The company does expect sales to decline by 2%-9% sequentially during the first quarter, while non-GAAP EPS is expected to be between $0.23 and $0.27, but both of these are in-line with analyst expectations.
During the Applied Materials' conference call, CEO Gary Dickerson stated that the company expects overall wafer fab equipment spending to be roughly flat in 2016, with the possibility of growth compared to 2015. In October, Gartner forecasted that the wafer fab equipment market would contract by 2.5% in 2016, returning to growth in 2017, a bit more pessimistic than Applied Materials' outlook. Applied Materials also expects NAND investments to be up in 2016, while DRAM investments are expected to be down significantly.
Now what: Applied Materials operates in a cyclical industry, and big swings in demand for its products aren't uncommon. The company is highly diversified, competing in nearly every category, and while its profits can collapse in bad years, it has posted a profit in nine of the past 10 years. According to Dickerson, initial industry forecasts for 2015 called for wafer fab equipment sales to rise by 5%-10%. In reality, sales were roughly flat. This is a good demonstration of how difficult it is to predict demand in the semiconductor equipment industry.
After falling precipitously through the first 10 months of this year, Applied Materials' stock began to recover in October, and the company's better-than-expected results and outlook drove continued gains in November.
The article Why Shares of Applied Materials Inc. Jumped in November originally appeared on Fool.com.
Timothy Green has no position in any stocks mentioned. The Motley Fool recommends Gartner and Intel. Try any of our Foolish newsletter services free for 30 days. We Fools may not all hold the same opinions, but we all believe that considering a diverse range of insights makes us better investors. The Motley Fool has a disclosure policy.
Copyright 1995 - 2015 The Motley Fool, LLC. All rights reserved. The Motley Fool has a disclosure policy.