Why Shake Shack Inc. Shares Soared Today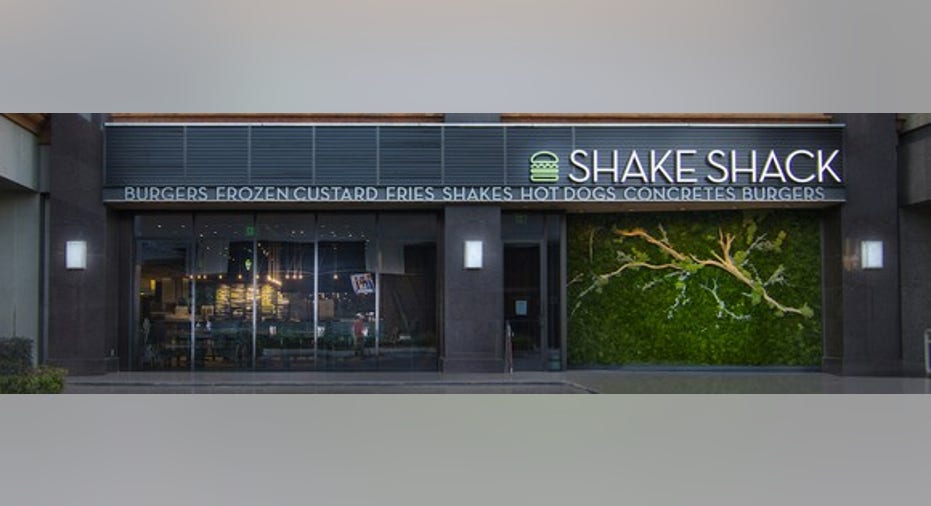 Shake Shack's newest location in Houston. Image Source: Shake Shack.
What happened
Shake Shack(NYSE: SHAK) shares were catching fire Thursday after the better-burger chain breezed past estimates and lifted its guidance in its third-quarter earnings report. As of 12:46 p.m. EST, the stock was up 16.1%.
So what
It was another strong quarter for the burger flipper as revenue jumped 40% to $74.6 million, well ahead of expectations of $69.3 million. Same-store sales growth was modest at 2.9%, but it was also better than estimates, and management has been broadcasting for several quarters that comp sales would moderate relative to last year's double-digit surge.
On the bottom line, earnings per share improved from $0.12 to $0.15, topping estimates by a penny a share.Shake Shack has beaten earnings estimates in all seven of its quarters as a publicly traded company.
Remarking on the quarter, Shake Shack CEO Randy Garutti said the company's "performance demonstrates the continued strength and opportunity of our brand.We're executing our multi-format growth strategy with great Shacks in our current markets as well as new markets across the country."
Now what
Yet again, management upped its guidance. As the company's real estate development pipeline continues to accelerate, management now sees full-year revenue of $264 million to $265 million, up from a previous range of $253 million to $256 million, and representing 39% growth from a year ago. It also expects to open 19 new company-operated locations, up from 18, as its New York Penn Station Shake Shack will be open by the end of the year.
Looking ahead to 2017, new store openings will increase, with 21 or 22 new company-operated locations in the works. The chain predicts modest same-store sales growth of 2% to 3% and total revenue in the $348 million to $352 million range, representing 32% growth over this year's total and significantly better than the Wall Street consensus of $335.4 million.
Restaurant-level operating margin is expected to moderate to between 26.5% and 27.5% as the company raises wages and opens more new stores. The long-term picture continues to be strong as the company's real estate pipeline expands, and the brand is eagerly awaited in new markets. Its ability to open new stores should be the primary driver of growth in the coming years.
10 stocks we like better than Shake Shack When investing geniuses David and Tom Gardner have a stock tip, it can pay to listen. After all, the newsletter they have run for over a decade, Motley Fool Stock Advisor, has tripled the market.*
David and Tom just revealed what they believe are the ten best stocks for investors to buy right now... and Shake Shack wasn't one of them! That's right -- they think these 10 stocks are even better buys.
Click here to learn about these picks!
*Stock Advisor returns as of November 7, 2016
Jeremy Bowman owns shares of Shake Shack. The Motley Fool is short Shake Shack. Try any of our Foolish newsletter services free for 30 days. We Fools may not all hold the same opinions, but we all believe that considering a diverse range of insights makes us better investors. The Motley Fool has a disclosure policy.