Why SeaWorld Entertainment, Office Depot, and Banco Bradesco Jumped Today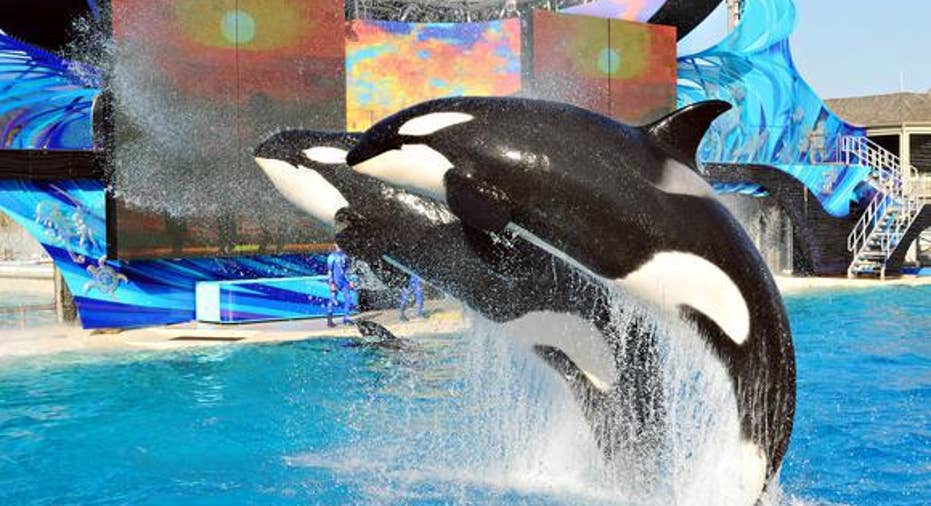 Image source: SeaWorld Entertainment.
One of the biggest problems the stock market has suffered from lately is the uncertain impact of the plunge in prices for key commodities like crude oil. Thursday brought further relief to the hard-hit energy sector, sending oil prices above $41.50 per barrel, and stocks generally climbed. Major market benchmarks rose between 0.5% and 1%, and the Dow Jones Industrials climbed to a net gain for the year.
Even outside the energy sector, several stocks posted strong gains, and among the best performers of the day were SeaWorld Entertainment , Office Depot , and Banco Bradesco .
SeaWorld Entertainment gained 9% after the aquatic theme-park operator finally gave in to activist pressure and announced it would end its breeding program of orca killer whales. SeaWorld said the current generation of orcas will be the last in the company's care, and it plans to introduce natural orca encounters in place of the theatrical shows that have generated controversy recently. In addition, a new partnership with the Humane Society will provide educational opportunities to the millions of SeaWorld parks visitors, showing the extent to which the theme-park operator has had to accommodate the wishes of animal advocacy groups in order to try to put together a viable business turnaround strategy. Going forward, the question SeaWorld still has to answer is whether its latest moves will spur formerly disgruntled visitors to come back and attract new paying customers to its new programs.
Office Depot jumped almost 11% on news that the office-supplies retailer might have found a solution to problems that have plagued its planned merger with rival Staples. A news report suggests that e-commerce giant Amazon.com might be willing to buy Office Depot's large-corporate sales division, leaving Office Depot with its extensive retail operations with which to merge with Staples. Antitrust regulators have cited the large-corporate side of the combined Staples and Office Depot as raising concerns about competition, so a divestiture of part of Office Depot's current operations might be sufficient to assure the Federal Trade Commission that the deal won't have a material impact on competition. The companies haven't confirmed the report, but at this point, anything that facilitates the Staples merger would likely be seen as good news.
Finally, Banco Bradesco soared 15% on an extremely strong day for the Brazilian stock market overall. Market participants attributed the gain in the Brazilian bank's shares to a more than 3% jump in Brazil's currency against the dollar, and many pointed to the ongoing controversy with President Dilma Rousseff as part of the reason for optimism. The lower legislative house in Brazil began the impeachment process for Rousseff Thursday, and with both Rousseff and former President Luiz Inacio Lula da Silva attracting attention in connection with charges of corruption and manipulation of government data. At this point, any resolution of the issue is likely to restore more confidence in the Brazilian economy, and that should continue to support Banco Bradesco and Brazilian stocks generally.
The article Why SeaWorld Entertainment, Office Depot, and Banco Bradesco Jumped Today originally appeared on Fool.com.
Dan Caplinger has no position in any stocks mentioned. The Motley Fool owns shares of and recommends Amazon.com. Try any of our Foolish newsletter services free for 30 days. We Fools may not all hold the same opinions, but we all believe that considering a diverse range of insights makes us better investors. The Motley Fool has a disclosure policy.
Copyright 1995 - 2016 The Motley Fool, LLC. All rights reserved. The Motley Fool has a disclosure policy.