Why SeaWorld Entertainment, Micron Technology, and Under Armour Jumped Today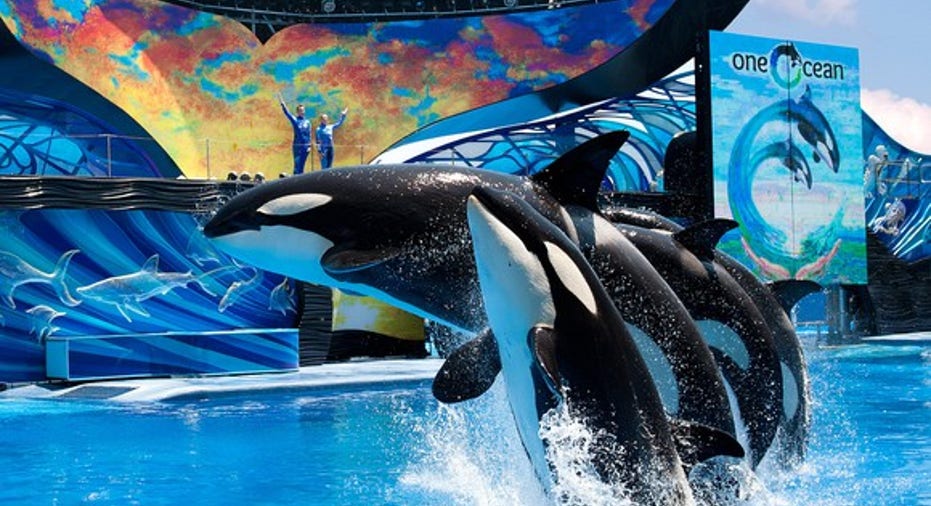 After starting the day comfortably in positive territory, the stock market drifted lower throughout the afternoon, then largely remained negative as Republicans pulled their healthcare bill after it became clear it would not be able to garner enough support to pass a key House vote.When all was said and done, theDow Jones Industrial Averagedeclined 60 points, or roughly 0.3%, and theS&P 500declined a more modest 0.1%. Meanwhile, theNasdaqmanaged to climb 11 points, or 0.2%, as the market came to a close.
But several individual stocks still delivered gains for investors today, including SeaWorld Entertainment (NYSE: SEAS), Micron Technology (NASDAQ: MU), and Under Armour (NYSE: UA)(NYSE: UAA). Read on to see what drove these unusual moves.
SeaWorld's new investor
Shares of SeaWorld rose as much as 11.1% early in the day, then settled to close up nearly 5% after the theme park operator announced that Chinese strategic investment firm Zhonghong Group will acquire a roughly 21% equity stake in the company from Blackstone. More specifically, Zhonghong Group subsidiary Zhonghong Holding will purchase the stake from funds affiliated with Blackstone at a price of $23 per share -- a hefty premium over SeaWorld's closing price yesterday of just $17.31 per share.
Image source: SeaWorld Entertainment.
In addition, SeaWorld agreed to provide advisory services and support agreements to Zhonghong Holding exclusively on the concept development and design of theme parks, water parks, and entertainment centers to be developed and operated by Zhonghong in China, Taiwan, Hong Kong, and Macau. Zhonghong also agreed to "certain restrictions" for its ability to sell its new stake in SeaWorld for two years, as well as limitations on its ability to acquire over 24.9% of outstanding shares without the approval of independent directors on SeaWorld's board.
Micron's earnings beat
Micron Technology stock rose over 7% today after thecomputing and storage specialist announced stronger-than-expected results for its fiscal second quarter ended March 2, 2017.Micron's quarterly revenue climbed 58.4% year over year, to $4.65 billion, and translated to adjusted net income of $1.03 billion, or $0.90 per diluted share. Both figures were above analysts' consensus estimates, which called for adjusted earnings of just $0.85 per share on revenue of $4.64 billion.
Micron CEO Mark Durcan credited strong demand and limited supplies for its NAND and DRAM products, as well as "significant progress" on Micron's cost-reduction initiatives.
"I am proud of the team's execution on critical technology and operational initiatives," added Durcan, "which will allow us to continue to capitalize on market trends."
Under Armour finds the floor
Finally, shares of Under Armour jumped 3.6% -- after hitting a fresh 52-week-low earlier in the week -- as Jefferiesanalyst Randal Konik upgraded his rating for the company to buy from hold. Konik also increased his per-share price target on Under Armour stock to $27 from $19.
To justify his bullishness, Konik explained that Under Armour's share price has likely bottomed, and the company is positioned to capitalize on the athletic apparel and footwear segments, which have easily outgrown traditional apparel and footwear over the past few years.
Konik elaborated, "This trend should continue in the U.S., where UA has significant exposure, and internationally, where UA penetration is growing."
To be sure, Under Armour's revenue from international markets climbed 63% year over year in 2016, but still represented just 15% of total sales. So when Under Armour's core performance apparel segment in the U.S. showed signs of slowing growth amid a highly competitive retail environment recent quarters, it was no surprise that investors took a step back. But with shares still down more than 30% so far in 2017, it's equally unsurprising to see Wall Street beginning to voice renewed optimism today.
Offer from The Motley Fool: The 10 best stocks to buy nowMotley Fool co-founders Tom and David Gardner have spent more than a decade beating the market. In fact, the newsletter they run, Motley Fool Stock Advisor, has tripled the S&P 500!*
Tom and David just revealed their ten top stock picks for investors to buy right now.
Click here to get access to the full list!
*Stock Advisor returns as of 3/24/2017.
Steve Symington owns shares of Under Armour (C Shares). The Motley Fool owns shares of and recommends Under Armour (A Shares) and Under Armour (C Shares). The Motley Fool has a disclosure policy.