Why Sears Holdings, DryShips, and Red Hat Jumped Today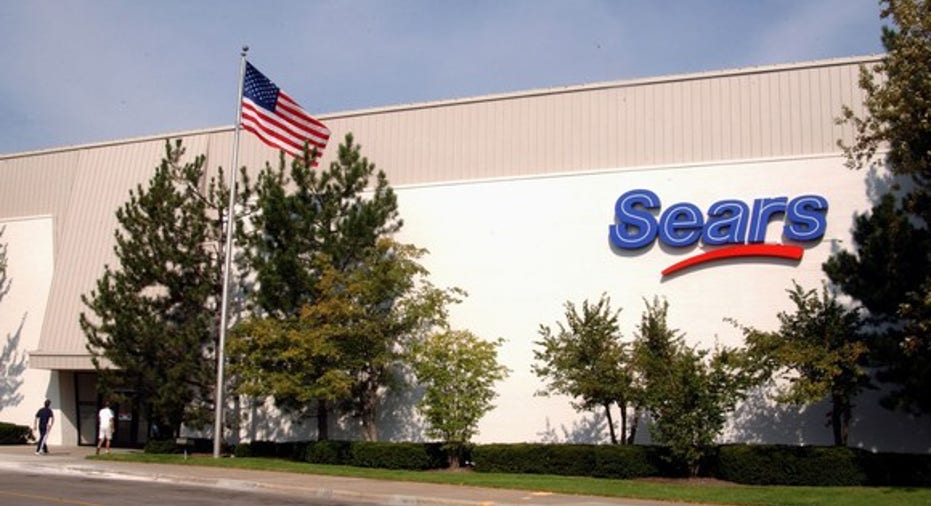 After a mixed start to the week, the stock market turned positive on Tuesday, with theDow Jones Industrial Averageup 151 points, or roughly 0.7%. Other broader market indexes enjoyed similar gains, withtheNasdaqandS&P 500up 0.6% and and 0.7%, respectively, as President Trump turned his pen toward rolling back what he described as "job-killing regulations" related to education, federal purchasing, and land use.
But several individual stocks outran the rest today, including Sears Holdings (NASDAQ: SHLD), DryShips (NASDAQ: DRYS), and Red Hat (NYSE: RHT). Read on to learn what drove these unusual gains.
Image source: Sears Holdings.
Sears investors come back for more
Shares of Sears Holdings skyrocketed 19.8% today, continuing yesterday's climb as a major investor added even more shares to their stake. Recall last Wednesday, Sears Holdings stock plunged after the company disclosed in its annual 10-K filing with the SEC that "substantial doubt exists related to the company's ability to continue as a going concern."
But according to an SEC filing on Monday, Bruce Berkowitz of Fairholme Capital Management bought roughly 287,000 shares of Sears stock between last Thursday and Monday at prices ranging between $8.05 per share and $8.46 per share. Berkowitz's latest purchase follows a previous buy of nearly 614,000 shares between March 20 and March 22, and brings his firm's stake to an impressive 28.84 million shares.
Also joining Berkowitz in his optimism last week was CEO Edward Lampert, who bought 526,000 shares between last Wednesday and Friday for around $8.21 per share. As it stands, Lampert now owns 31.84 million shares worth roughly $360 million as of this writing, cementing his status as Sears' single largest shareholder.Together, these purchases are viewed by many investors as a massive vote of confidence in Sears' ability to navigate its precarious situation through cost-savings initiatives and store closures.
DryShips goes shopping
DryShips stock climbed 7.1% today after the dry bulk shipping company announced agreements to acquire four modern Newcastlemax bulk carrier ships with a combined deadweight tonnage of 206,000 tons for $124 million. That's well within Dryships' current liquidity of roughly $455 million, and company chairman and CEO George Economou notes the vessels were purchased at "historical low prices." In addition, DryShips notes two of the four carriers will be employed under time charter contracts, while the remaining two will trade in the spot market.
"Spot rates for drybulk vessels have continued to improve since the beginning of the year and our outlook for drybulk is positive given the modest order-book and the continued strength of the Chinese economy that generates demand for raw commodities," added Economou. "We continue to look at opportunities to diversify and grow our fleet with high quality tonnage and significant operating leverage."
After years of painful industry conditions which saw DryShips selling off much of its fleet to raise capital, it's good for investors to see dry bulk rates improving along with higher demand for commodities. With this purchase, it's clear DryShips is gearing up to capitalize on that demand.
Red Hat guides for a solid first quarter
Finally, shares of Red Hat jumped 5.2% today after the open-source software company delivered strong fiscal fourth-quarter 2017 results. Quarterly revenue climbed 15.7% year over year, to $628.8 million, including a 16.7% increase in subscription revenue, to $559.6 million, and 8.4% growth in training and services revenue, to just under $69.3 million. On the bottom line, that translated to adjusted net income of $110 million, or $0.61 per share, up from $97 million, or $0.52 per share in the same year-ago period. Both figures were roughly in line with analysts' expectations.
For the current quarter, however, Red Hat anticipates revenue of $643 million to $650 million -- well above the $642 million Wall Street was modeling -- with adjusted earnings per share of $0.52 to $0.53. Similarly for the full fiscal year, Red Hat expects revenue of $2.72 billion to $2.76 billion, and adjusted earnings per share of $2.60 to $2.64. By contrast, analysts were looking for full-year revenue of just $2.71 billion, and adjusted earnings of only $2.59 per share.
"As customers embrace digital transformation, they are turning to Red Hat as a strategic partner to deliver solutions that can help them realize the benefits of these initiatives," explained Red Hat CEO Jim Whitehurst. "Enterprises and service providers are increasingly adopting hybrid cloud infrastructures and open source technologies, which is fueling our growth and positioning Red Hat for the long-term."
Offer from The Motley Fool: The 10 best stocks to buy nowMotley Fool co-founders Tom and David Gardner have spent more than a decade beating the market. In fact, the newsletter they run, Motley Fool Stock Advisor, has tripled the S&P 500!*
Tom and David just revealed their ten top stock picks for investors to buy right now.
Click here to get access to the full list!
*Stock Advisor returns as of 3/24/2017.
Steve Symington has no position in any stocks mentioned. The Motley Fool has no position in any of the stocks mentioned. The Motley Fool has a disclosure policy.