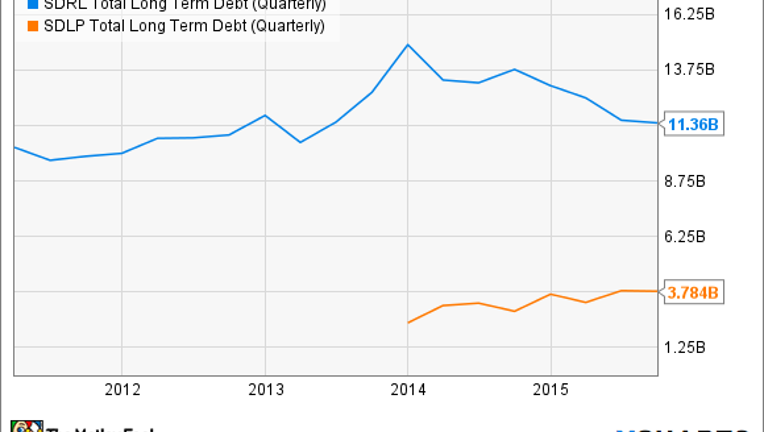 What: Shares of Seadrill Ltd. and Seadrill Partners LLC dropped 44.2% and 57.5%, respectively, in December as pressure from oil prices continued to weigh on their future.
So what: Instead of recovering in 2015, as many analysts predicted, oil prices continued to fall, ending the year around $35 per barrel. The problem for both companies is that a once-impressive backlog is being whittled away because new offshore contracts are nearly impossible to come by. That means less revenue and earnings in the future, which is a problem when you have added billions of dollars in debt to build ultra-deepwater offshore rigs that no one wants anymore.
SDRL Total Long Term Debt (Quarterly) data by YCharts.
Now what: Seadrill has one of the youngest and best deepwater drilling fleets in the world, but it's also in a market that doesn't have any interest in making long-term bets on expensive offshore oil fields. If explorers are even spending at all, they'd rather spend money on short, shallow-water drilling contracts or even shale oil. That puts Seadrill in a tough position and the debt hanging over the company becomes a bigger and bigger cloud the longer oil prices stay low. If oil prices recover to anywhere near $100 per barrel, these stocks will be big winners, but that's looking less and less likely every day.
The article Why Seadrill Ltd. and Seadrill Partners LLC Plunged in December originally appeared on Fool.com.
Travis Hoium does not have a position in any company mentioned. The Motley Fool recommends Seadrill. Try any of our Foolish newsletter services free for 30 days. We Fools may not all hold the same opinions, but we all believe that considering a diverse range of insights makes us better investors. The Motley Fool has a disclosure policy.
Copyright 1995 - 2016 The Motley Fool, LLC. All rights reserved. The Motley Fool has a disclosure policy.