Why Sarepta Therapeutics Shares Slipped 10.9% in June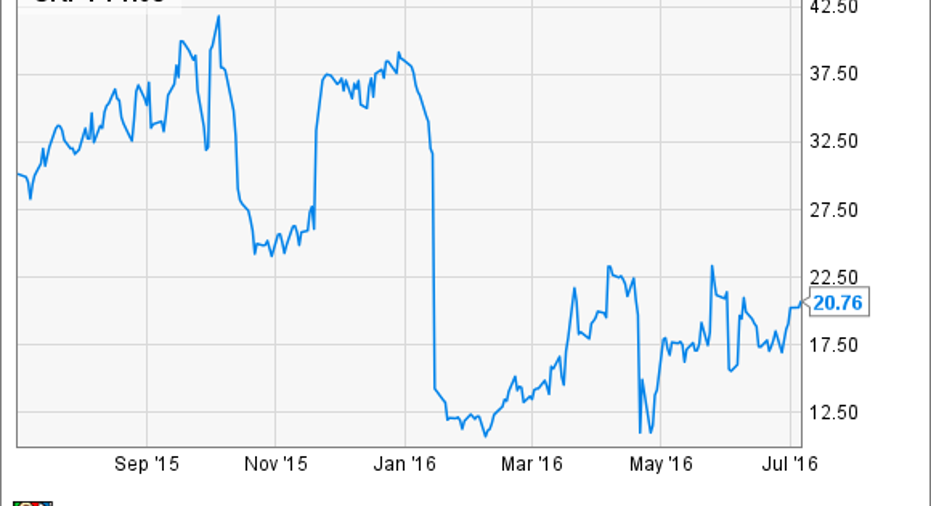 Image source: Getty Images.
What:In May,Sarepta Therapeuticsshares notched double-digit gains in hopes that the Food and Drug Administration would disregard a key advisory committee vote and approve the company's Duchenne muscular dystrophy (DMD) drug, eteplirsen. However, that rally ran out of steam last month, with Sarepta's sharesdeclining 10.9%, according toS&P Global Market Intelligence.
So what:Duchenne muscular dystrophy is a muscle-wasting disease with no approved treatment, and as a result, there's been a raging debate over whether to approve eteplirsen with limited evidence of efficacy in DMD patients.
In April, a key FDA advisory panel tortuously decided against recommending early approval of eteplirsen without more convincing data on its ability to restore the production of dystrophin, a protein necessary for muscle building.
The news sent shares reeling, but the FDA threw investors a lifeline in May when it decided to extend its review of eteplirsen indefinitely. Shortly thereafter, the FDA requested additional information regarding dystrophin levels in eteplirsen patients, leading some industry watchers to predict that the agency will go against the advice of its advisory panel.
Although that potential still exists, there's been little new evidence of a potential FDA green light since then and that fact, alongside a dilutive stock offering in early June designed to shore up its balance sheet, gave investors little reason to bid shares higher.
Now what:The FDA decision on eteplirsen is a binary event for Sarepta Therapeutics investors.Eteplirsen is its most advanced therapy in Sarepta Therapeutics pipeline and absent approval, research and development spending will take a toll on the company's cash stockpile. Facing the risk of having to reboot its pipeline in the event of a rejection, the decision to raise money ahead of the FDA decision is smart.
The FDA hasn't indicated when it will issue its decision, and because of that, there's a ton of risk associated with owning Sarepta Therapeutics shares. Even if eteplirsen is approved, the company may have to conduct additional, costly trials to confirm the drug's efficacy that could crimp profitability.
Overall, this company is too risky for me to recommend it. Instead, investors might be better off focusing on other investments that are less of a hit-or-miss.
The article Why Sarepta Therapeutics Shares Slipped 10.9% in June originally appeared on Fool.com.
Todd Campbell has no position in any stocks mentioned.Todd owns E.B. Capital Markets, LLC. E.B. Capital's clients may have positions in the companies mentioned. Like this article? Follow him onTwitter where he goes by the handle@ebcapital to see more articles like this.The Motley Fool has no position in any of the stocks mentioned. Try any of our Foolish newsletter services free for 30 days. We Fools may not all hold the same opinions, but we all believe that considering a diverse range of insights makes us better investors. The Motley Fool has a disclosure policy.
Copyright 1995 - 2016 The Motley Fool, LLC. All rights reserved. The Motley Fool has a disclosure policy.