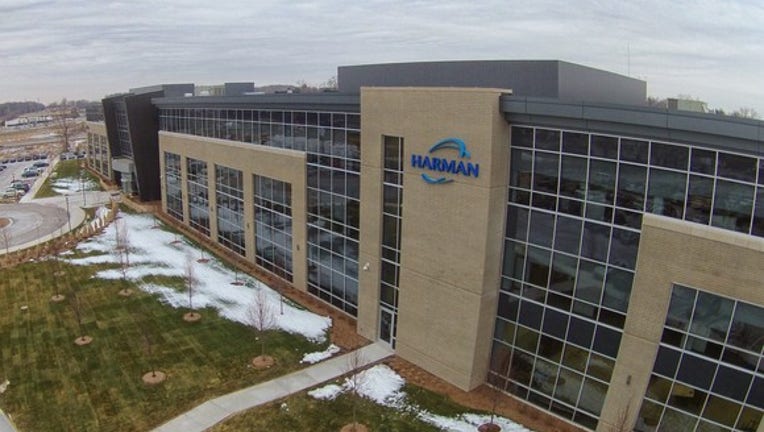 Samsung Electronics (NASDAQOTH: SSNLF) has recently been looking for ways to become a major player in the auto business. It appears to have found one: exercise .
The South Korean electronics giant said on Monday that it has agreed to acquire Harman International Industries (NYSE: HAR), a leader in connected-car and automotive "infotainment" technology, for $8 billion in cash.
Who is Harman International?
Harman owns several audio brands that produce products for consumers, professionals, and automotive applications, including JBL, Lexicon, Mark Levinson, and Harman Kardon, among others.
This Jaguar's XF's in-dash infotainment system was supplied by Harman. Image source: Jaguar Land Rover.
In recent years, Harman has developed deep expertise in "connected car" technology, building on its established presence in the market for in-car audio systems. It now develops "embedded infotainment solutions" -- units that combine navigation, multimedia support, and wireless connectivity, to be installed as original equipment by automakers.
Harman's automotive "partners" include some big names: Mercedes-Benz parent Daimler, Volkswagen, BMW, Tata Motors' (NYSE: TTM) Jaguar Land Rover unit, and Fiat Chrysler Automobiles (NYSE: FCAU).
According to Harman, about 65% of its sales are auto-related.
Why does Samsung want to buy Harman?
Like its consumer-electronics rivals, Samsung sees which way the industry's winds are blowing: The automobile is rapidly becoming the latest connected "device."
Between self-driving technology, advanced connectivity, vehicle-to-vehicle communications, and electrified drivetrains, a lot of the innovation that started with smartphones is finding its way into cars. That trend is widely expected to accelerate in coming years.
Samsung is a huge player in consumer electronics, but it hasn't had a significant presence in autos. But it has clearly been watching its Korean rival, LG Chem (NASDAQOTH: LGCLF) build the foundations of a major business supplying batteries and components for electric cars, including General Motors'new all-electric Chevrolet Bolt EV. Samsung clearly wants a piece of that action for itself.
There have been several signs in recent months that it was seeking one: Its battery unit said in August that it will build a $358 million factory in Hungary to make battery cells for electric cars, and reports last summer suggested that it had conversations with FCA about buying the Italian-American automaker's Magneti Marelli components unit.
What company executives said about the deal
Harman CEO Dinesh Paliwal said the deal is good for shareholders and employees, and that the combined company will have the scale to be a significant player in autos.
Harman's facility in Novi, Michigan is close to many automakers'engineering centers. Image source: Harman International Industries.
Samsung Electronics CEO Oh-Hyun Kwon said Harman is a "strong foundation" for Samsung's automotive strategy.
What's next for Samsung and Harman?
The deal awaits approval by Harman's shareholders. On the surface, it doesn't look likely to draw much opposition: The purchase price represents a 28% premium over Harman's share price at Friday's close.
If all goes well, the parties expect the deal to close in mid-2017.
Forget the 2016 Election: 10 stocks we like better than Harman International Industries Donald Trump was just elected president, and volatility is up. But here's why you should ignore the election:
Investing geniuses Tom and David Gardner have spent a long time beating the market no matter who's in the White House. In fact, the newsletter they have run for over a decade, Motley Fool Stock Advisor, has tripled the market.*
David and Tom just revealed what they believe are the ten best stocks for investors to buy right now...and Harman International Industries wasn't one of them! That's right -- they think these 10 stocks are even better buys.
Click here to learn about these picks!
*Stock Advisor returns as of November 7, 2016.
John Rosevear owns shares of General Motors. The Motley Fool recommends General Motors. Try any of our Foolish newsletter services free for 30 days. We Fools may not all hold the same opinions, but we all believe that considering a diverse range of insights makes us better investors. The Motley Fool has a disclosure policy.