Why Sabre Corp. Stock Plunged Today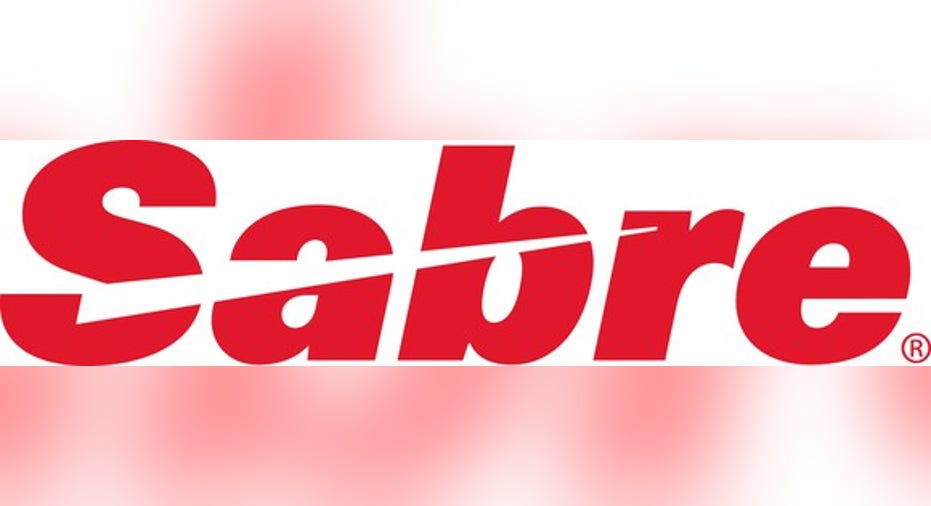 What happened
Shares of Sabre Corp. (NASDAQ: SABR) were down 11.2% as of 11:30 a.m. EST Tuesday after the travel technology company followed mixed fourth-quarter 2016 results with disappointing guidance.
So what
Quarterly revenue climbed 9.4% year over year, to $829.6 million, and translated to adjusted net income of $0.27 per share. Analysts, on average, were looking for slightly lower revenue of $827.1 million but higher adjusted earnings of $0.31 per share.
For the full year of 2017, Sabre expects revenue of $3.54 billion to $3.62 billion, or year-over-year growth of 5% to 7%, and adjusted earnings per share of $1.31 to $1.45, or flat to up 11% from 2016. By comparison, consensus estimates predicted 2017 adjusted earnings of $1.59 per share on revenue near the high end of Sabre's guidance range.
Image source: Sabre Corporation.
Now what
Sabre CFO Rick Simonson noted revenue in 2017 will be driven by "continued strong growth in Travel Network and Hospitality Solutions, and more modest growth in Airline Solutions."
"We will make investments in IT infrastructure this year to modernize, drive efficiency in development and ongoing technology costs, further enhance the stability and security of our network and accelerate our shift to open source and cloud-based solutions," Simonson added. "The costs associated with these investments will be felt in both our corporate-level product and technology operating expenses, as well as our capital expenditures."
To be fair, it's hard to blame Sabre Corporation for investing in its future. But it's also no surprise to see shares down today as Wall Street digests the costs of those investments. So while I'm content to watch Sabre from the sidelines for now -- especially given its light revenue guidance for the coming year -- this pullback might represent a compelling entry point for patient, long-term investors to open or add to a position.
10 stocks we like better than SabreWhen investing geniuses David and Tom Gardner have a stock tip, it can pay to listen. After all, the newsletter they have run for over a decade, Motley Fool Stock Advisor, has tripled the market.*
David and Tom just revealed what they believe are the 10 best stocks for investors to buy right now... and Sabre wasn't one of them! That's right -- they think these 10 stocks are even better buys.
Click here to learn about these picks!
*Stock Advisor returns as of February 6, 2017
Steve Symington has no position in any stocks mentioned. The Motley Fool has no position in any of the stocks mentioned. The Motley Fool has a disclosure policy.