Why Royal Caribbean Cruises Ltd. Stock Rose 14% in January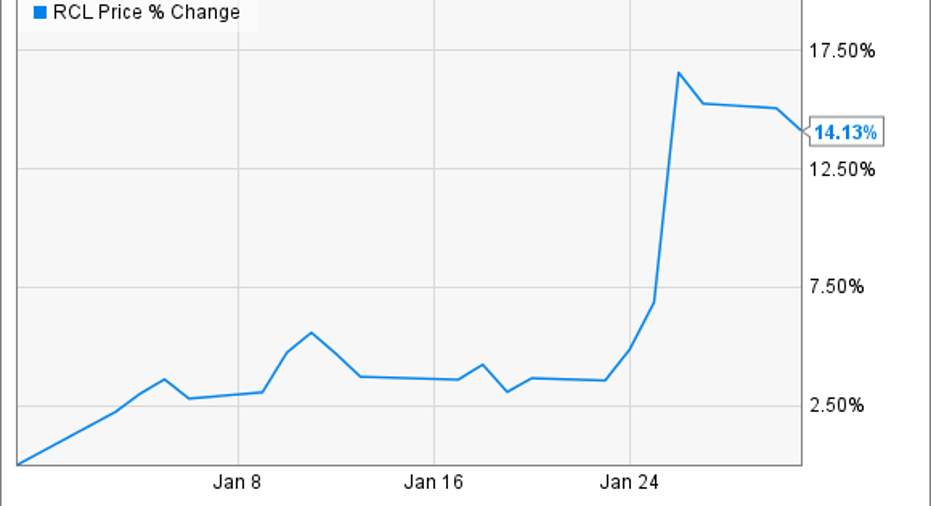 What happened
Shares of cruise ship operator Royal Caribbean (NYSE: RCL) enjoyed a 14% jump last month, according to data provided by S&P Global Market Intelligence.
The spike, combined with an uptick at the start of 2017, has helped push the stock ahead of the broader market, and of rival Carnival (NYSE: CCL), over the past 12 months.
So what
In a late January earnings release, Royal Caribbean announced that sales growth was flat. However, lower cruise expenses met with a decline in marketing costs to push operating income higher by 19%. "Our business continues to thrive," CEO Richard Fain trumpeted in the quarterly press release.
Image source: Getty Images.
What investors liked even better was the company's bullish outlook for 2017. Executives forecast an acceleration of net yield growth to 4.3% from 3.9%. Vacation bookings are at record levels, too, and that gives Fain and his team confidence that they can achieve $7 per share of earnings, up from $6.08 per share for fiscal 2016. Heading into the report, Wall Street analysts would have settled for closer to $6.78 per share.
Now what
Royal Caribbean is in a strong position heading into what management calls its "double-double" fiscal year. By that they mean the company should roughly double its earnings in 2017 compared to 2014 while pushing return on invested capital into double digits -- up from 5.9% that year.
RCL Return on Invested Capital (TTM) data by YCharts.
Its latest profit improvement already puts it ahead of Carnival on that measure, and a 10% ROIC would allow it to overtake its bigger rival on that key metric soon. Of course, major risks remain, including spotty travel markets in places like Latin America and parts of Europe. Rising fuel prices could also sink earnings growth for all industry participants. But for now at least, Royal Caribbean is entering a new fiscal year with the wind at its back.
10 stocks we like better than Royal Caribbean When investing geniuses David and Tom Gardner have a stock tip, it can pay to listen. After all, the newsletter they have run for over a decade, Motley Fool Stock Advisor, has tripled the market.*
David and Tom just revealed what they believe are the 10 best stocks for investors to buy right now... and Royal Caribbean wasn't one of them! That's right -- they think these 10 stocks are even better buys.
Click here to learn about these picks!
*Stock Advisor returns as of January 4, 2017
Demitrios Kalogeropoulos has no position in any stocks mentioned. The Motley Fool recommends Carnival. The Motley Fool has a disclosure policy.