Why Republic Airways Holdings Inc. Shares Fell 26% in November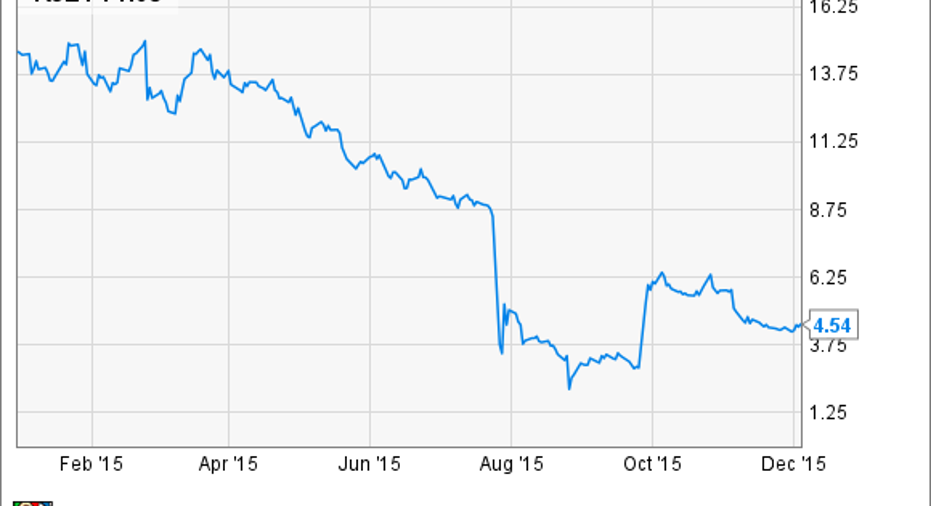 What: Shares of No. 2 regional airline operator Republic Airways plummeted 26% in November, according to S&P Capital IQ data. It was just another wild month in a wild year for Republic stock, which began 2015 above $14, briefly plummeted below $2, moved back above $6, and has spent the last several weeks trading around the $4.50 mark.
Republic Airways YTD Stock Performance, data by YCharts.
So what: To understand Republic's poor November stock performance, one need look no further than CEO Bryan Bedford's downbeat commentary about the company's near-term outlook during its Q3 earnings call last month.
Many investors had hoped that after Republic Airways' pilots ratified a new contract agreement in late October, profitability would soon return to normal. Bedford made it clear that there's still a lot of work to be done. Most notably, Republic's pilot staffing shortage got a lot worse during Q3 and the first few weeks of October, reducing aircraft utilization. The pilot pay increase will put additional pressure on Republic's costs.
Some Republic's problems could ease over the next year or so as the new pilot contract will make it easier for the company to fill its vacant pilot positions. However, Republic Airways needs its mainline airline partners to agree to cover part of its pilot pay increase, which they won't be eager to do. Moreover, its staffing issues could recur a few years down the road.
Now what: The expected wave of pilot retirements over the next decade is likely to make the current pilot shortage get far worse over time. Regional airlines, which pay a lot less than mainline carriers and cargo airlines, will be the worst hit.
Some regional airlines, including industry leader SkyWest , haven't been hurt yet. SkyWest has benefited from the fact that it was already planning to shrink its fleet. It ended 2014 with more than 700 planes in its fleetbut expects to have just 645 planes flying by the end of 2015. This means that it hasn't needed to fully offset pilot attrition -- it has even had the ability to add some new, higher-margin contracts to fly 76-seat regional jets.
But in the long run, even SkyWest is likely to be affected by the pilot shortage, as mainline carriers poach more and more pilots from the regional sector. Unless the U.S. pilot qualification rules are relaxed to reduce the cost of becoming an airline pilot, Republic Airways and SkyWest are likely to face crisis after crisis for the next decade.
The article Why Republic Airways Holdings Inc. Shares Fell 26% in November originally appeared on Fool.com.
Adam Levine-Weinberg has no position in any stocks mentioned. The Motley Fool has no position in any of the stocks mentioned. Try any of our Foolish newsletter services free for 30 days. We Fools may not all hold the same opinions, but we all believe that considering a diverse range of insights makes us better investors. The Motley Fool has a disclosure policy.
Copyright 1995 - 2015 The Motley Fool, LLC. All rights reserved. The Motley Fool has a disclosure policy.