Why Regulus Therapeutics Inc. Fell 20.1% in April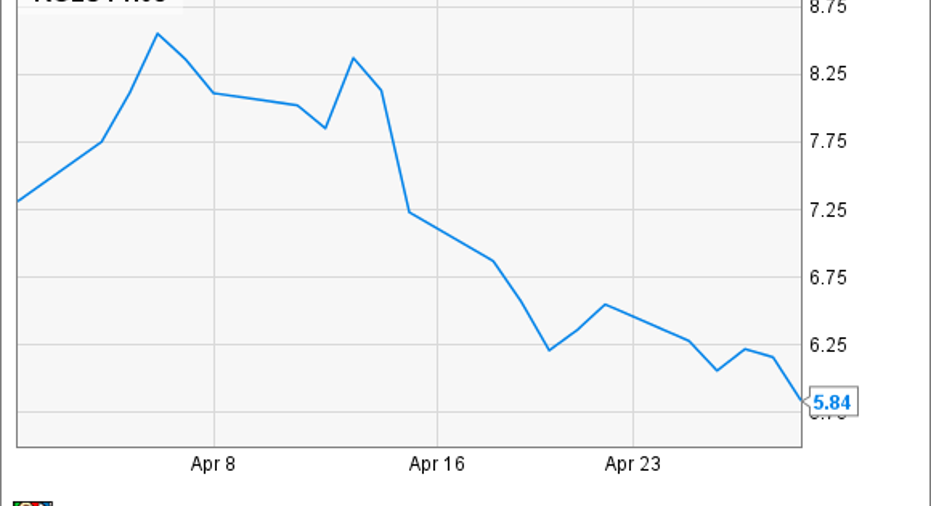 Image source: Regulus Therapeutics.
What: Shares of Regulus Therapeutics , a biopharmaceutical company developing first-in-class drugs to inhibit specific microRNAs, slumped 20.1% in April, according to data from S&P Global Market Intelligence. Confidence in Regulus' lead product tanked after investors took a closer look at the candidate's safety data.
So what: The company presented phase 2 results that suggest its lead candidate, RG-101, can effectively shorten treatment durations of on-the-market hepatitis C virus treatments.
While the efficacy numbers look good, a closer look at increased adverse events associated with the antiviral booster leaves RG-101's future questionable.
The trial split 79 patients into arms receiving currently-approved hepatitis C drugs Harvoni, Olysio, and Daklinza. The simplest downside to including RG-101 alongside these pills is the rate of injection site reactions. After that, the fact that 20 of 27 patients in the Harvoni arm experienced some adverse event doesn't bode well for the drug's tolerability.
Grade 3 events are considered severe, just short of life-threatening, and generally require hospitalization.The grade 3 event in the Harvoni trial was a headache, so it must have been an awful one. The serious adverse event related to Olysio was was shortness of breath that occurred months after finishing therapy. In the Daklinza arm, a patient presented jaundice three weeks after completing therapy, and the patient had a variety of other issues, including alcohol use and poorly controlled diabetes.
Now what: The good news is that several months out, nearly all patients receiving any of the three drugs were essentially cured. However, only a handful of patients had been evaluated 20 and 24 weeks post-treatment with RG-101, which means RG-101's efficacy is still somewhat inconclusive.
Given the higher rate of adverse events, its commercial prospects in this particular indication are less than exciting, even if it can shorten treatment durations.
However, I think by focusing on low-grade adverse events, the market has missed something extraordinary. Trials supporting approval of Olysio and Daklinza approval include sofosbuvir, the main ingredient in Gilead Sciences' Sovaldi, and half of Harvoni. If, in fact, RG-101 was able to reach nearly total cure rates with these Olysio and Daklinza in the absence of sofosbuvir, then the company's unique anti-microRNA platform has exciting potential.
Regulus has partnered with Sanofi in hepatocellular carcinoma and AstraZeneca in non-alcoholic steatohepatitis. Keep your eyes open for more from this interesting platform.
The article Why Regulus Therapeutics Inc. Fell 20.1% in April originally appeared on Fool.com.
Cory Renauer has no position in any stocks mentioned. You can follow Cory on Twitter @coryrenauer or connect with him on LinkedIn for more healthcare industry insight. The Motley Fool owns shares of and recommends Gilead Sciences. Try any of our Foolish newsletter services free for 30 days. We Fools may not all hold the same opinions, but we all believe that considering a diverse range of insights makes us better investors. The Motley Fool has a disclosure policy.
Copyright 1995 - 2016 The Motley Fool, LLC. All rights reserved. The Motley Fool has a disclosure policy.