Why Red Robin Gourmet Burgers, LendingClub, and Fiat Chrysler Automobiles Slumped Today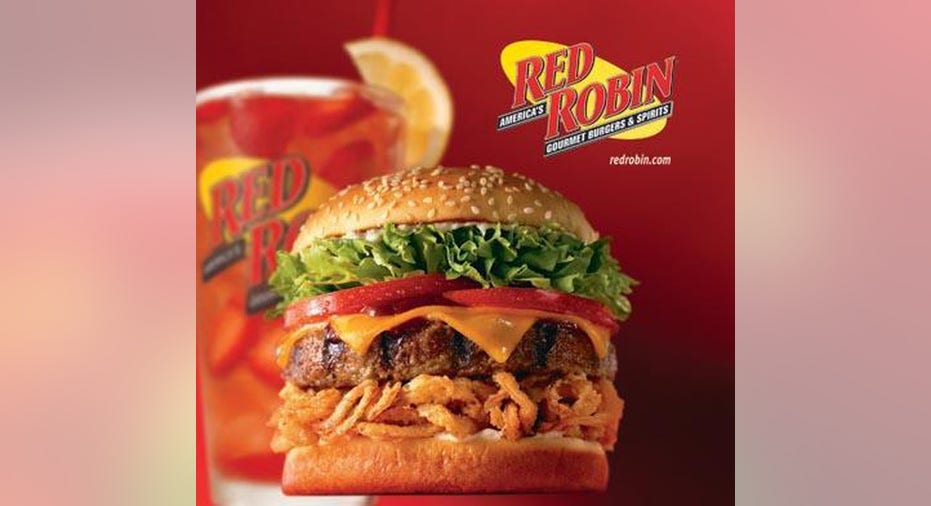 Image source: Red Robin Gourmet Burgers.
Tuesday was a tough day for investors, who had to watch all of the big indexes' gains from Monday's session go down the drain. The Dow finished down 180 points after having been down more than 200 at a couple of points in the session, and other major market benchmarks followed suit with losses in the 1% to 1.25% range. Commodity prices gained ground as a key inflationary gauge was unexpectedly strong, but many other sectors fell in response to the resulting concerns about potential economic impact. Among the worst performers on the day were Red Robin Gourmet Burgers , LendingClub , and Fiat Chrysler Automobiles .
Red Robin Gourmet Burgers plunged 18% after reporting its first-quarter financial results. The company's overall revenue rose less than 2%, and comparable-restaurant sales dropped 2.6% even after adjusting for adverse currency impacts. Operating profit margin fell significantly, and the company said that it would likely manage only an 8% growth rate in its revenue for the current year. Perhaps more important, Red Robin called into question the success of its Burger Works concept, saying that it would only open three new locations this year compared to previous expectations for five. With many concerns throughout the consumer discretionary sector eating at businesses, Red Robin will need to recapture its growth momentum in order to reassure those who've seen their shares get beaten down.
LendingClub finished down 9% in the wake of its revelation that the Department of Justice had issued a grand jury subpoena to the company. The online lender said that it wasn't surprised at getting the subpoena, given that it has voluntarily disclosed information publicly and is fully cooperating with the investigation. Even though it is trying to portray the inquiry in its most favorable light, LendingClub nevertheless faces substantial risk, especially given the events that led to the departure of CEO Renaud Laplanche. Until the issue gets resolved, it will be tough for LendingClub to regain its lost ground.
Finally, Fiat Chrysler Automobiles fell 7%. The automaker got an analyst downgrade from Exane BNP Paribas, further weighing on the company in what has been a difficult period for the company since early 2015. April sales figures released early in the month had been reasonably strong, rising almost 6% compared to last year's month of April. However, the overall results hid weakness in the Chrysler, Dodge, and Fiat makes, with Jeep and Ram playing key roles in keeping Fiat Chrysler's overall sales climbing. Many investors increasingly believe that the auto market might have topped out, and if that proves to be the case, then Fiat Chrysler could stay stuck in its downtrend for quite a while.
The article Why Red Robin Gourmet Burgers, LendingClub, and Fiat Chrysler Automobiles Slumped Today originally appeared on Fool.com.
Dan Caplinger has no position in any stocks mentioned. The Motley Fool has no position in any of the stocks mentioned. Try any of our Foolish newsletter services free for 30 days. We Fools may not all hold the same opinions, but we all believe that considering a diverse range of insights makes us better investors. The Motley Fool has a disclosure policy.
Copyright 1995 - 2016 The Motley Fool, LLC. All rights reserved. The Motley Fool has a disclosure policy.