Why Qualcomm Stock Slumped 18% in January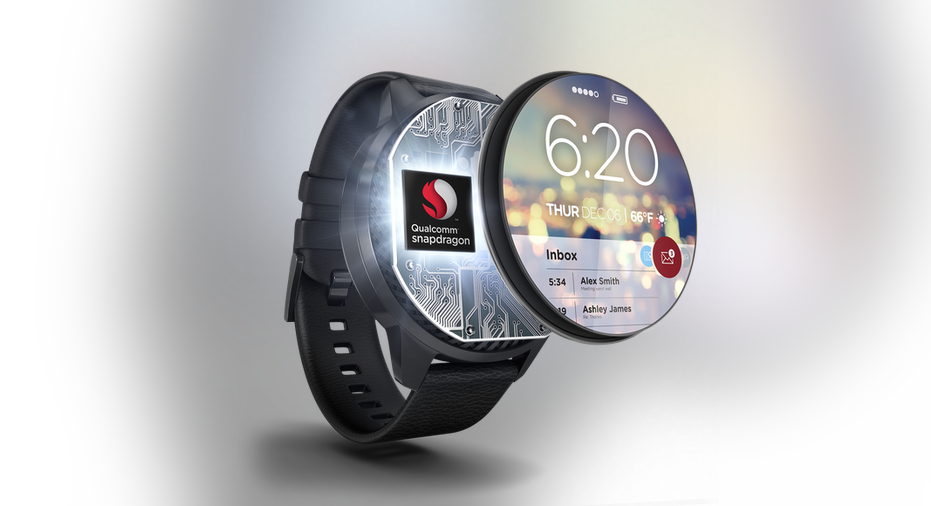 What happened
Shares of mobile chip giant Qualcomm (NASDAQ: QCOM) tumbled 18.3% in January, according to data provided byS&P Global Market Intelligence. A one-two punch of legal actions was the culprit, with the Federal Trade Commission charging the company with anti-competitive practices and Apple suing over patent royalty issues.
So what
On Jan. 17, the FTC filed a complaint in federal district court charging Qualcomm with anti-competitive behavior. The FTC is accusing Qualcomm of using its dominant position as a supplier of baseband processors to extract onerous supply and licensing terms from phone manufacturers.
Image source: Qualcomm.
The FTC alleged that Qualcomm uses a "no license, no chips" policy which withholds chips from phone manufacturers if they fail to agree with Qualcomm's license terms. The FTC believes this is effectively an anti-competitive tax on the use of rivals' chips. Qualcomm is also accused of refusing to license standard-essential patents.
Apple sued Qualcomm three days later, followed by another lawsuit in China. The iPhone giant accused Qualcomm of charging royalties for technologies that it had nothing to do with, effectively raising the cost of new features. According to Apple, it pays Qualcomm five times more in royalties than all other cellular patent licensors combined. Apple also accused Qualcomm of withholding $1 billion in payments in retaliation for cooperating with law enforcement agencies.
Now what
Qualcomm has disputed the FTC complaint and called the Apple lawsuit baseless, but any threat to Qualcomm's lucrative licensing business should be taken seriously by investors. During Qualcomm's first quarter, the licensing business generated $1.52 billion of pre-tax profit, compared to just $724 million for the chip business.
How these lawsuits turn out is anyone's guess, and it will likely take quite a while for decisions to be made. It's also unclear whether these suits will affect Qualcomm's acquisition of NXP Semiconductors, which is scheduled to close before the end of the year. Investors pushed down the stock in January to account for these added risks, erasing a good portion of last year's gains.
10 stocks we like better than QualcommWhen investing geniuses David and Tom Gardner have a stock tip, it can pay to listen. After all, the newsletter they have run for over a decade, Motley Fool Stock Advisor, has tripled the market.*
David and Tom just revealed what they believe are the 10 best stocks for investors to buy right now... and Qualcomm wasn't one of them! That's right -- they think these 10 stocks are even better buys.
Click here to learn about these picks!
*Stock Advisor returns as of February 6, 2017
Timothy Green owns shares of NXP Semiconductors. The Motley Fool owns shares of and recommends Apple and Qualcomm. The Motley Fool has the following options: long January 2018 $90 calls on Apple and short January 2018 $95 calls on Apple. The Motley Fool recommends NXP Semiconductors. The Motley Fool has a disclosure policy.