Why PTC Therapeutics, Inc. Stock Rose 75.4% in November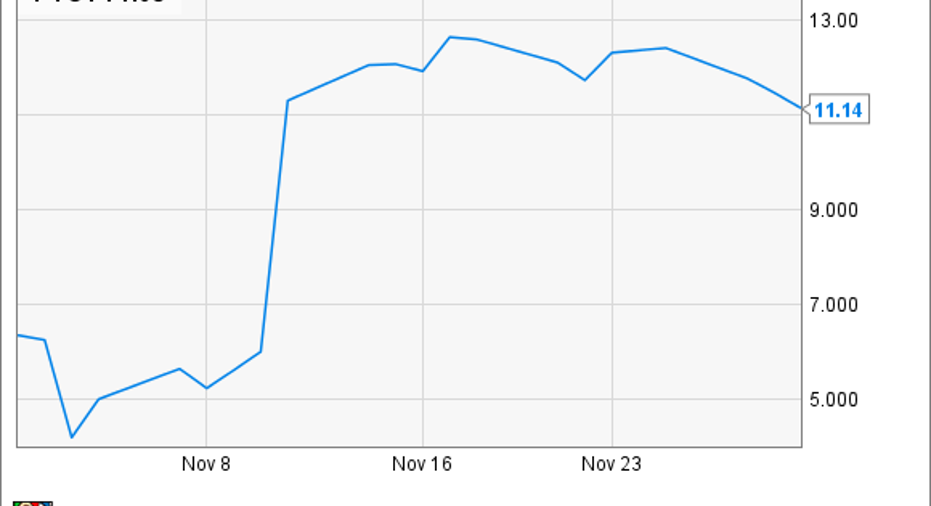 Image source: Getty Images.
What happened
Shares of small-cap biotech PTC Therapeutics, Inc. (NASDAQ: PTCT)flew 75.4% upward in November, according to data from S&P Global Market Intelligence. An important recommendation to the European regulators to allow its Duchenne muscular dystrophy (DMD) drug Translarna gave investors a reason to cheer.
So what
PTC Therapeutics has just one revenue stream at the moment, Translarna for the treatment of DMD caused by nonsense mutations. The DMD population is limited to begin with, and an estimated 13% are treatable with Translarna. That works out to roughly 7,000 patients worldwide.
Although approved for sale in the EU in 2014, the U.S. Food and Drug Administration squeezed Translarna's addressable population by roughly 2,000 patients when it refused to review its application and denied an appeal of that decision earlier this year. Given that the drug's EU approval is considered conditional and subject to annual renewal, it takes nerves of steel to hold PTC Therapeutics shares.
This is why the stock rocketed upward last month, after the European Medicines Agency's Committee for Medicinal Products for Human Use recommended the European Commission renew Translarna's marketing authorization. The EC isn't required to follow such recommendations, but it usually does.
Now what
In an interview with my Foolish colleague Todd Campbell, PTC's CFO wouldn't break out patient numbers, but Translarna sales are growing. Third-quarter sales popped 125% over the previous-year period to an annualized run rate of about $88 million.
While it's great to see sales of the drug are growing and will probably continue doing so for at least another year, the company isn't out of the weeds just yet. To maintain its conditional approval, PTC must conduct an 18-month trial testing Translarna against a placebo, followed by another 18-month period with all patients receiving the treatment.
Odds are fairly strong that the EC will allow continued sale of Translarna while the trial is under way. This gives the company some breathing room, but there's little room for error. Clinical trials with Translarna for treatment of cystic fibrosis and other rare genetic diseases isn't cheap. Over the past 12 months, the company burned through about $166 million, and it finished September with about $232 million in working capital.
Running the study to maintain conditional approval in the EU will probably widen the loss going forward, and if it isn't successful, the company could find itself without any products to sell. While success would send the stock soaring, it's still far from guaranteed. If you have the slightest aversion to risk, I'd recommend watching this show from the sidelines.
10 stocks we like better than PTC Therapeutics When investing geniuses David and Tom Gardner have a stock tip, it can pay to listen. After all, the newsletter they have run for over a decade, Motley Fool Stock Advisor, has tripled the market.*
David and Tom just revealed what they believe are the 10 best stocks for investors to buy right now... and PTC Therapeutics wasn't one of them! That's right -- they think these 10 stocks are even better buys.
Click here to learn about these picks!
*Stock Advisor returns as of Nov. 7, 2016
Cory Renauer has no position in any stocks mentioned. You can follow Cory on Twitter @coryrenauer or LinkedIn for more investing insight.
The Motley Fool has no position in any of the stocks mentioned. Try any of our Foolish newsletter services free for 30 days. We Fools may not all hold the same opinions, but we all believe that considering a diverse range of insights makes us better investors. The Motley Fool has a disclosure policy.