Why Popeyes Louisiana Kitchen, Inc. Stock Popped 12.2% in November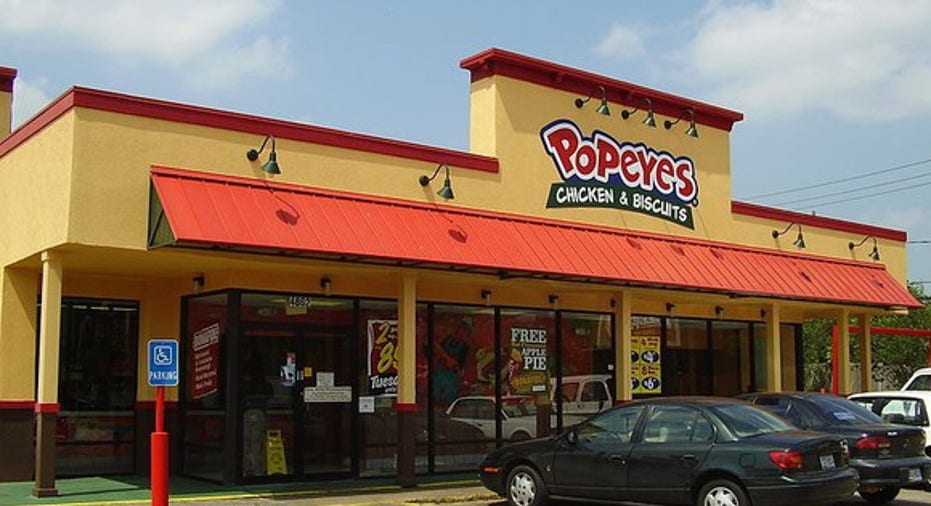 Image source: Popeyes Louisiana Kitchen.
What happened
Shares of Popeyes Louisiana Kitchen (NASDAQ: PLKI) climbed 12.2% in the month of November, according to data provided by S&P Global Market Intelligence, after the chicken-centric quick-service restaurant chain announced strong third-quarter 2016 results.
So what
Quarterly revenue rose a modest 4.7% year over year, to $64 million, thanks to a combination of 6.3% year-over-year growth in restaurant count, to 2,631, and a 1.8% increase in global same-store sales. Meanwhile, Popeyes' net income grew 17.8%, to $12.6 million, and -- thanks to share repurchases over the past year -- net income per share increased 25.6%, to $0.59. By comparison, Wall Street was looking for slightly higher revenue of $64.9 million, but significantly lower adjusted earnings of $0.53 per share.
To be fair, these mixed results might not sound too encouraging. But investors were more than happy that within Popeyes' global same-store sales was a 1.5% increase domestically, marking a return to growth after a flat performance in the prior quarter broke a more than five-year streak of positive domestic comps. Meanwhile, international same-store sales remained strong, increasing 3.7% and marking Popeyes' 27th consecutive quarter of positive international comps growth.
Now what
But Popeyes also slightly reduced its full-year earnings outlook, calling for reported earnings per diluted share of $2.00 to $2.05 (compared to the prior range of $2.10 to $2.15), and adjusted earnings per diluted share near the low end of its previous $2.10 to $2.15 range.
However, note the former -- reported net income -- includes $3.7 million in one-time asset impairment charges in Q3 related to the refranchising of Popeyes' Indianapolis market. During the subsequent conference call management elaborated that the move should result in improved comps, and an increase of roughly 270 basis points in operating margins; it should allow Popeyes to narrow its geographic focus and more effectively operate and develop "top-tier high-performance restaurants."
Regarding the decision to narrow guidance to the lower end of Popeyes' full-year adjusted earnings range, CEO Cheryl Bachelder insisted "there has been no material change" in operations or competition since last quarter. Rather, Popeyes is merely refining the range as the end of the year grows near, and it has a better handle on items like expenses and final restaurant opening counts.
Of course, that doesn't rule out the possibility that Popeye's could be underpromising with the intention of yet again overdelivering. And considering its momentum appears to be swinging back in the right direction after its temporary hiccup in Q2, it's no surprise to see shares trading significantly higher over the past month.
10 stocks we like better than Popeyes Louisiana Kitchen When investing geniuses David and Tom Gardner have a stock tip, it can pay to listen. After all, the newsletter they have run for over a decade, Motley Fool Stock Advisor, has tripled the market.*
David and Tom just revealed what they believe are the 10 best stocks for investors to buy right now... and Popeyes Louisiana Kitchen wasn't one of them! That's right -- they think these 10 stocks are even better buys.
Click here to learn about these picks!
*Stock Advisor returns as of Nov. 7, 2016
Steve Symington has no position in any stocks mentioned. The Motley Fool recommends Popeyes Louisiana Kitchen. Try any of our Foolish newsletter services free for 30 days. We Fools may not all hold the same opinions, but we all believe that considering a diverse range of insights makes us better investors. The Motley Fool has a disclosure policy.