Why Pizza Stocks Are Still Piping Hot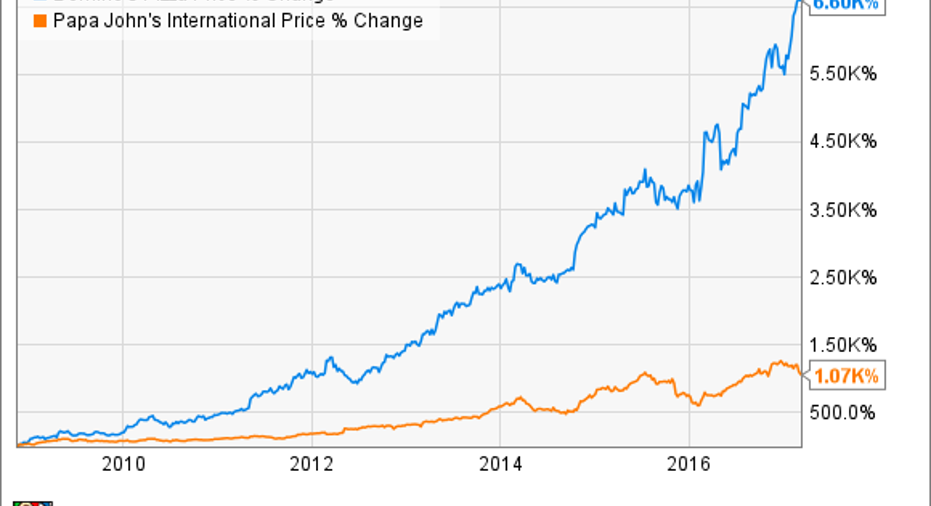 Believe it or not,Domino's Pizza(NYSE: DPZ) andPapa John's(NASDAQ: PZZA) have crushed the market since hitting bottom during the financial crisis.
Image source: Getty Images.
As the chart below shows, Domino's has returned a whopping 6,600% in that time, outperforming Netflix,Amazon, and essentially every other consumer-facing company in that time. A dollar invested then would be worth $67 today, not including dividends.
For much of that time, those stocks rose alongside gains in the broader restaurant industry as fast-casual chains likeChipotleandPaneraalso surged. But that's changed in the last 12 months.
Restaurant stocks have fallen over the last year as traffic has declined, and many popular chains have reported falling comparable sales. There's no clear reason for this shift -- the economy is still expanding, and aggregate restaurant sales are still growing, which is either being driven by new stores or independent businesses.One possible cause for the decline could be food deflation, which has lowered prices at the grocery store, persuading potential customers to eat in instead of dine out.
However, the potential reason that restaurants are fearing most is that declining retail traffic, especially at malls and shopping centers, has spilled over into the restaurant industry. That's why many are now rolling out their own delivery options.
Indeed, consumers have fewer reasons to leave the house than ever as Netflix and other streaming services make home entertainment easy and Amazon sells everything under the sun at the tap of a smartphone.
Pizza stocks have ridden this wave as well, as both Papa John's and Domino's Pizza have continued to outperform the market over the past year. Domestic same-store sales jumped 10.5% last year, and were up 3.5% at Papa John's, while they were down across much of the restaurant industry.
The power of delivery
With the rise of e-commerce, the demand for convenience and delivery has become a top consumer desire. Consumers no longer need to leave their homes to shop or find entertainment, and many more Americans work from home today. Expectations have adjusted, and habits have changed, fueling demand for pizza delivery and similar services that prioritize convenience.
Domino's has capitalized on this with investments in technology, allowing customers to order via its app, through Twitter, or even just by texting an emoji.Domino's website also allows customers to monitor their pizza as it's made and delivered.
Price also seems to be a factor, as a pizza for $7.99 or less from Domino's or Papa John's is a better deal than visiting most restaurants. That's a built-in advantage that the pizza-slingers have that isn't going away.
Strong business model
Harnessing technology has also helped these companies control labor costs. Domino's company-owned operating margin reached 23% last year, among the best in the industry, while Papa John's clocked in at 20%. Overall, Domino's operating margin was 18%, thanks to a combination of domestic company-owned business, franchising at home and abroad, and its supply chain, which provides the necessary ingredients to its franchisees.
Domino's has seen international same-store sales grow for 92 straight quarters (23 years), and that success has allowed it to expand rapidly. The company now has more than 8,000 stores abroad and nearly 14,000 total.
Like fast-food burgers, pizza has proven its ability to travel abroad, and Domino's is growing fast, adding nearly 1,300 restaurants last year. That growth should continue as the secular trends that have fed its success at home gradually takes hold abroad as well, and its tech investments will help new franchisees succeed. The franchisee fee and capital requirements are also much less than whatMcDonald's and many otherfast-food chains ask for as the business is much simpler.
Those structural advantages, delivery, affordability, and the simplicity of business aren't going away. With pressure on restaurant traffic likely to continue, pizza stocks seem poised to outperform.
10 stocks we like better than Domino's PizzaWhen investing geniuses David and Tom Gardner have a stock tip, it can pay to listen. After all, the newsletter they have run for over a decade, Motley Fool Stock Advisor, has tripled the market.*
David and Tom just revealed what they believe are the 10 best stocks for investors to buy right now... and Domino's Pizza wasn't one of them! That's right -- they think these 10 stocks are even better buys.
Click here to learn about these picks!
*Stock Advisor returns as of February 6, 2017
Jeremy Bowman has no position in any stocks mentioned. The Motley Fool owns shares of Papa John's International. The Motley Fool is short Domino's Pizza and has the following options: short June 2017 $140 puts on Domino's Pizza. The Motley Fool has a disclosure policy.