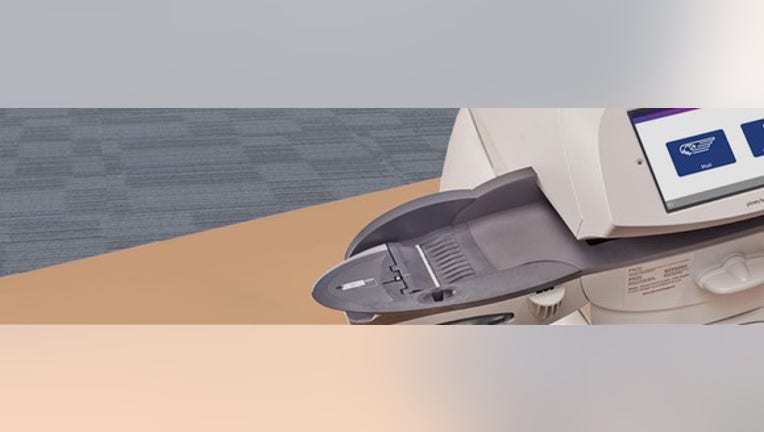 What happened
Shares ofPitney Bowes Inc.(NYSE: PBI) were surging today after the office solutions specialist posted a strong first-quarter earnings report. As of 1:21 p.m. EDT, the stock was up 15.7%.
So what
The mailing company's results were impressive on all counts. Revenue declined 0.9%, or increased 0.2% in constant currency, to $837 million, easily beating expectations of $817 million, while, adjusted earnings per share increased from $0.34 to $0.36, topping estimates by a penny.
Image source: Pitney Bowes.
Digital commerce solutions led growth with an 11% jump in revenue, making up for a decrease in small- and medium-business solutions.
According to CEO Marc Lautenbach, "We turned in a solid first quarter performance, driven by double-digit growth in e-commerce." Noting other improvements, he added, "Our results in the first quarter are what we envisioned and expected from the long-term growth initiatives and strategic investments we have been putting in place over the past four years."
Now what
Pitney Bowes' guidance also reassured investors as the company sees revenue essentially flat for the year, projecting a range of a negative 2% to 1% and adjusted EPS of $1.70-$1.85, above $1.68 from a year ago. The midpoints of both figures were better than analyst expectations at a 1.9% decline in revenue growth and $1.74 in earnings per share.
Many investors hold shares of Pitney Bowes for its sizable dividend yield, now at 4.8% after today's rally. As the positive guidance shows, the company should have no problem continuing to fund the payout and may even be able to raise it if earnings per share hit the high end of that range.
10 stocks we like better than Pitney BowesWhen investing geniuses David and Tom Gardner have a stock tip, it can pay to listen. After all, the newsletter they have run for over a decade, Motley Fool Stock Advisor, has tripled the market.*
David and Tom just revealed what they believe are the 10 best stocks for investors to buy right now... and Pitney Bowes wasn't one of them! That's right -- they think these 10 stocks are even better buys.
Click here to learn about these picks!
*Stock Advisor returns as of May 1, 2017
Jeremy Bowman has no position in any stocks mentioned. The Motley Fool has no position in any of the stocks mentioned. The Motley Fool has a disclosure policy.