Why Pandora Media Is Spending $75 Million on a Bankrupt Company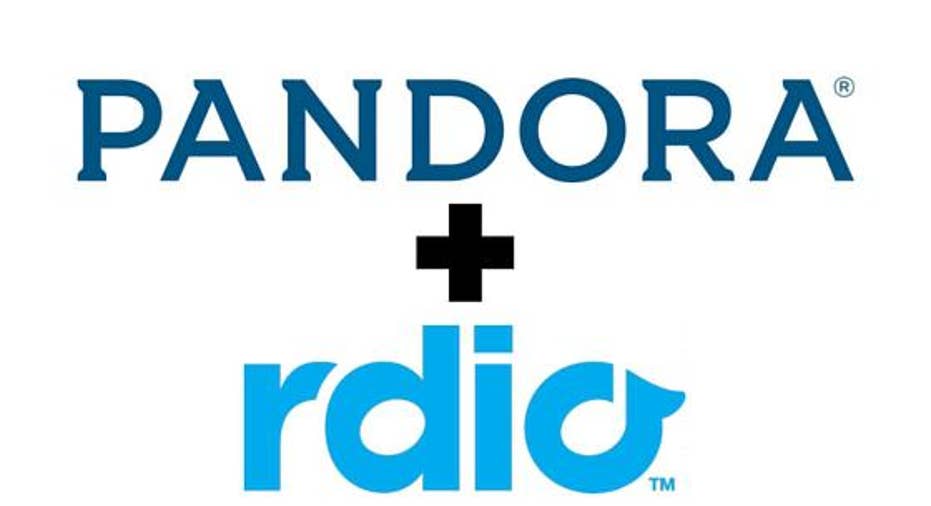 Image sources: Pandora, Rdio, and author.
On-demand music streaming in the United States is going mainstream this year. After album streams grew 55% last year, Nielsen Soundscan found streaming increased a whopping 92% during the first half of 2015. So, it's probably surprising to many that one of on-demand streaming music's biggest players, Rdio, is filing for bankruptcy.
Pandora Media is stepping in to buy up the company's assets, including its intellectual property, technology, and many members of its team, for $75 million. (Note: that doesn't include Rdio's existing licensing deals with record labels.) The move is being made to accelerate Pandora's entry into on-demand streaming.But with considerably less cash to spend and a core business that still doesn't turn a profit, why is Pandora buying a company that already failed to stand up to the competition?
Leveraging its existing assetsSpotify is the currently the king of on-demand music streaming because of its first-mover advantage. The company cleverly built social features like playlist sharing into its service, and watched as the network effect boosted its total listeners to 75 million. 20 million of those users are paid subscribers.
The only way to really compete with Spotify for a mainstream audience is to make use of existing assets. Pandora, with its 78.1 million listeners, has an established user base of music listeners to market an on-demand streaming service. It also has tons of data on those consumers' music tastes that it can use to deliver a better user experience.
With its existing listener data, Pandora can start off on the same level as Spotify when it comes to recommendations for its millions of listeners. That at least lowers the (non-financial) switching costs, and might make it particularly worthwhile for some heavy Pandora users.
Rdio will be shut down, and Pandora plans to launch an on-demand service in late 2016 using the assets obtained from the acquisition. The new service will be tied into Pandora's brand.
Leveraging its diversificationWith the acquisition of Rdio as well as Pandora's recent acquisition of TicketFly, Pandora is transforming itself into a place for musicdiscovery, on-demand streaming and concert tickets. This diversification could help the company in its potential negotiations with record labels for its flagship online radio and its potential on-demand offering.
Pandora has petitioned the Copyright Royalty Board to lower the mandatory minimum for licensing songs on its Internet radio service. The company is using its existing deals with a couple of independent music label consortiums to ask for a lower statutory rate. The decision will come in December.
If Pandora loses the appeal, it will likely look to negotiate individual deals with the labels themselves to get better rates. The logical step for the company would be to show that its radio service is an on-ramp to subscriptions -- which has been the case with Spotify -- which might help it get lower rates for the radio service, assubscription streamers generate higher royalty rates than Pandora's free radio listeners.
The company's new property TicketFly gives Pandora one more lever to pull in negotiations. Most record labels have 360-degree dealswith the artists they sign -- where they get a share of all the revenue from an artist's creative output -- so they get a share money made from concert tickets. The online ticketing service offers another avenue for Pandora to prove its worth to the industry.
Still, Pandora will have to negotiate rates for the on-demand side of things, which are usually front-loaded with signing bonuses. That could put some pressure on Pandora's dwindling pile of cash and investments after it just spent half a billion dollars in the last few months. It better put something together quickly to compete with Spotify and other music platforms in the accelerating on-demand streaming market.
The article Why Pandora Media Is Spending $75 Million on a Bankrupt Company originally appeared on Fool.com.
Adam Levy has no position in any stocks mentioned. The Motley Fool owns shares of and recommends Pandora Media. Try any of our Foolish newsletter services free for 30 days. We Fools may not all hold the same opinions, but we all believe that considering a diverse range of insights makes us better investors. The Motley Fool has a disclosure policy.
Copyright 1995 - 2015 The Motley Fool, LLC. All rights reserved. The Motley Fool has a disclosure policy.