Why Organovo Holdings Inc. Is Up 27% This Year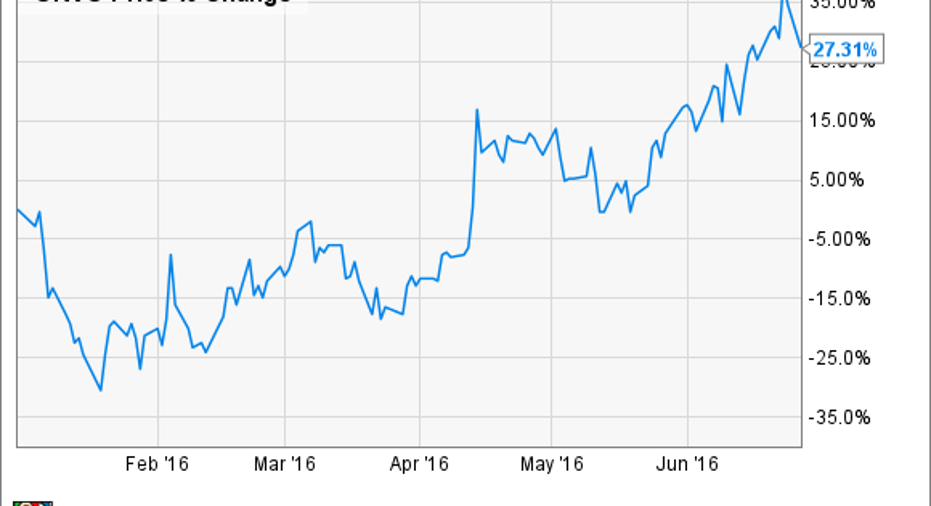 Image source: Organovo Holdings.
What:Shareholders ofOrganovo Holdings , a 3-D bioprinting technology company, are having a great 2016. The company's stock is up more than 27% since the start of the year, according to data fromS&P Global Market Intelligence.
So what:Organovo Holdings has been busy over the past six months. Here's a recap of the key developments that have occurred so far this year:
The company's subsidiary Samsara Sciences officially commenced commercial operations earlier this year. Samsara Sciences' focus will be on creating human liver cells, and the company is expected to be a key supplier to Organovo Holdings.
Organovo presented data at theSociety of Toxicology's annual meeting in March. Two of its big customers -- Bristol-Myers Squibband Astellas Pharma-- were on hand to assist with the presentation of the data, lending a great deal ofcredibility to the company's exVive3DTM Human Liver Model.
Organovo reported fiscal fourth-quarter and full-year results in June. Total revenue grew to $1.5 million, up 160% year over year and slightly ahead of the company's guidance. Net loss for the year was $38.6 million, and the company ended March with a cash balance of $62.1 million.
Overall, Organovo has had a productive start to the year, so it's understandable why the markets have bid up shares. As shareholders surely remember,shares plunged66% in 2015, so any positive news was bound to help the company's stock start to rebound.
Now what:Organovo now counts five of the top 25 largest drugmakers in the world as customers, showing that it's making solid progress in gaining the attention of industry giants. This list includes Merck, Astellas Pharma, Bristol-Myers Squibb, and more, so it's possible that the company's entry into the space has reached a tipping point.
Looking ahead, management believes revenue will land between $4 million and $6 million infiscal 2017, which represents strong growth from the $1.5 million in revenue that Organovo generated in fiscal 2016.However, that's still nowhere near enough sales to offset the company's growing expenses, so cash burn is expected to be at least $32.5 million for the year. That will certainly take a big bite out of the company's cash balance of just over $62 million.
The company is on track to launch its kidney tissue product in the third quarter of this year, which could be a great catalyst for investors to look forward to. Management believes the kidney tissue market could exceed $1 billion in time, so investors will want to watch this launch closely.
Still, Organovo is likely to remain in the red for at least a few more years, so while its business model is intriguing, I personally have no interest in becoming a shareholder. If the company proves that it can generate a profit, then I'd happily change my tune, but until that happens, I'm content to remain on the sidelines.
The article Why Organovo Holdings Inc. Is Up 27% This Year originally appeared on Fool.com.
Brian Feroldi has no position in any stocks mentioned.Like this article? Follow him onTwitter where he goes by the handle@Longtermmindsetor connect with him on LinkedIn to see more articles like this.The Motley Fool has no position in any of the stocks mentioned. Try any of our Foolish newsletter services free for 30 days. We Fools may not all hold the same opinions, but we all believe that considering a diverse range of insights makes us better investors. The Motley Fool has a disclosure policy.
Copyright 1995 - 2016 The Motley Fool, LLC. All rights reserved. The Motley Fool has a disclosure policy.