Why Optical Networking Stocks Soared in November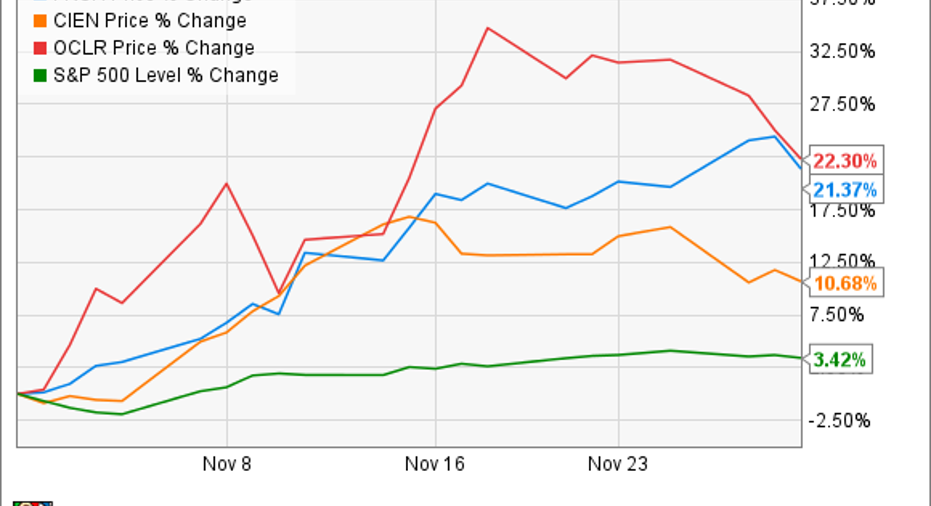 Image source: Getty Images.
What happened
Optical networking stocks had another strong showing in November, according to data from S&P Global Market Intelligence. Shares of Ciena (NYSE: CIEN) rose 10.7%, Finisar (NASDAQ: FNSR) gained 21.4%, and Oclaro (NASDAQ: OCLR) jumped 22.3% higher.
So what
Optical components maker Oclaro got the party started with a solid first-quarter report right at the start of November. Share prices soared as much as 15% higher the next day, thanks to positive surprises on both the top and bottom lines. Sales were particularly strong in the category of extremely high-speed components, designed for use in long-distance telecom backbones.
That report started a groundswell of optimism around the optical networking industry. Fellow components provider Finisar and networking equipment builder Ciena are both due to report earnings on Dec. 8. All three companies were on the receiving end of analyst upgrades in November, based on Oclaro's strong results alongside reminders that the global telecom industry stands on the verge of another massive wave of infrastructure investments.
Now what
The upcoming infrastructure retooling is not small potatoes.
Wireless network standards are moving on from the fourth generation to the fifth, promising a tenfold increase in data networking speeds plus more security and higher reliability.
In the U.S., network providers are currently bidding on a large chunk of former TV-signal radio spectrum in the highly desirable 600-megahertz block. Total bids currently stand at nearly $20 billion, and the FCC hopes to reach $40 billion before the auction ends in early 2017.
Both of these game-changing events are sure to require plenty of high-speed network upgrades behind the scenes, often powered by fiber-optic technologies. Investors in this sector need to keep a close eye on the telecoms themselves, since they are the intended end users for all of this megabandwidth fiber technology.
Both Oclaro and Finisar have seen their share prices more than double so far in 2016, while Ciena has traded largely sideways.
So things are looking up in general, supported by at least one solid data point from Oclaro.
Tomorrow, Ciena and Finisar line up to either underscore or undermine the Oclaro-based confidence. Ciena's fourth-quarter report will drop in the early morning, and Finisar follows up with a second-quarter update after the closing bell.
Both of these reports are required reading for optical networking investors.
10 stocks we like better than Finisar When investing geniuses David and Tom Gardner have a stock tip, it can pay to listen. After all, the newsletter they have run for over a decade, Motley Fool Stock Advisor, has tripled the market.*
David and Tom just revealed what they believe are the 10 best stocks for investors to buy right now... and Finisar wasn't one of them! That's right -- they think these 10 stocks are even better buys.
Click here to learn about these picks!
*Stock Advisor returns as of Nov. 7, 2016
Anders Bylund has no position in any stocks mentioned. The Motley Fool has no position in any of the stocks mentioned. Try any of our Foolish newsletter services free for 30 days. We Fools may not all hold the same opinions, but we all believe that considering a diverse range of insights makes us better investors. The Motley Fool has a disclosure policy.