Why Omeros Corporation Stock Popped 47.9% in November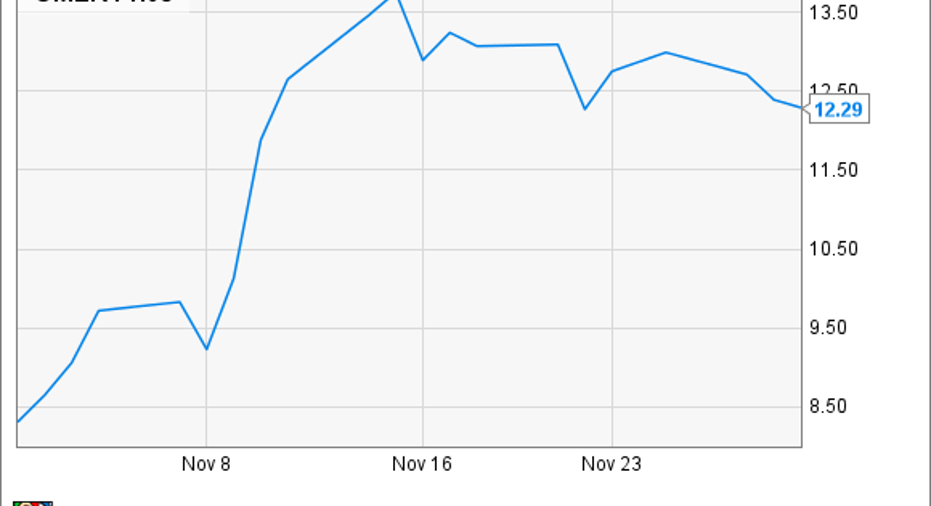 Image source: Getty Images.
What happened
Shares of Omeros Corporation(NASDAQ: OMER), a small biopharma with a cataract surgery drug, popped 47.9% in November according to data from S&P Global Market Intelligence. Management's positive outlook for its commercial and clinical-stage pipeline pointed the stock price skyward.
So what
About 24.5 million people have cataracts in the U.S., making it the country's leading cause of blindness. Corrective surgery is associated with several important benefits that improve patients' quality of life and reduce healthcare spending. Omeros Corporation's first commercialized product, Omidria, is playing an increasingly important role in cataract surgery operations.
The FDA first approved Omidria solution in 2014 to keep pupils open during cataract surgery and reduce inflammation. It's swiftly becoming a popular alternative to epinephrine, as third-quarter sales jumped 248% over the previous year period to $11.3 million.
While Omidria sales are rising, development costs associated with its ambitious clinical-stage pipeline continue to pull the company's bottom line into negative territory. Omidria's increased uptake suggests its cash burn rate could slow down, and a new $125 million credit facility will boost liquidity.
Now what
In the quarters ahead, a handful of studies outlining Omidria's significant benefits over epinephrine could help it continue its upward sales trajectory. Patients appreciate less post-operation pain, but cost-conscious providers will be especially interested in a significant reduction in complication rates associated with its use.
If Omidria sales continue to soar, Omeros could be able to launch its lead candidate, OMS721 for treatment of kidney vessel obstruction, without too many trips to the equity tap. Following the advice of European regulators, the company is running the same single-arm trial to support applications in the U.S. and EU for treatment of atypical hemolytic uremic syndrome.
Further out, Omeros is aiming foraccelerated approval of OMS271 for treatment of two more causes of kidney damage that lack effective treatment options. The drug significantly improved circulating levels of bio-markers associated with kidney damage in mid-stage studies with patients in this group. Investors will want to keep an eye open for whether or not the FDA will accept bio-marker data, or insist on long-term measurement of clinical outcomes such as percentages of patients eventually requiring dialysis.
Beyond OMS271, Omeros has three more clinical-stage candidates. If it sees further success with Omidria, its lead candidate could be just the beginning of a long climb upwards from a modest market cap of just $452 million at recent prices.
10 stocks we like better than Omeros When investing geniuses David and Tom Gardner have a stock tip, it can pay to listen. After all, the newsletter they have run for over a decade, Motley Fool Stock Advisor, has tripled the market.*
David and Tom just revealed what they believe are the 10 best stocks for investors to buy right now...and Omeros wasn't one of them! That's right -- they think these 10 stocks are even better buys.
Click here to learn about these picks!
*Stock Advisor returns as of Nov. 7, 2016.
Cory Renauer has no position in any stocks mentioned. You can follow Cory on Twitter @coryrenauer or LinkedIn for more investing insight.
The Motley Fool has no position in any of the stocks mentioned. Try any of our Foolish newsletter services free for 30 days. We Fools may not all hold the same opinions, but we all believe that considering a diverse range of insights makes us better investors. The Motley Fool has a disclosure policy.