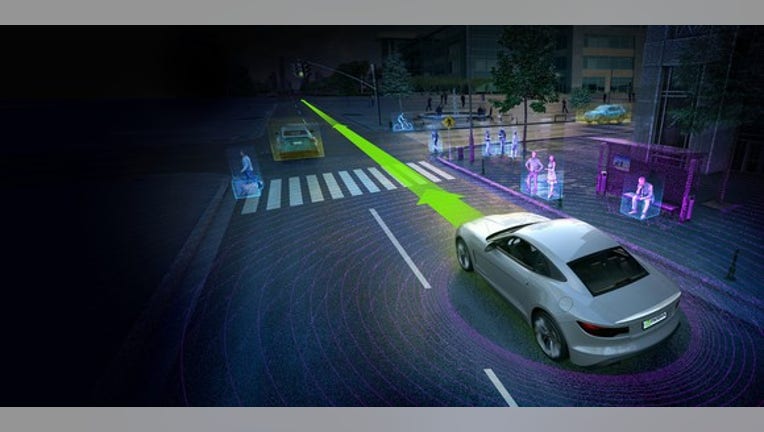 Following an absolutely epic run last year, shares of graphics specialist NVIDIA (NASDAQ: NVDA) got clobbered today, down 9% at the close.
The culprit was an analyst double downgrade. Instinet analyst Romit Shah dropped his rating by two notches, from buy to "reduce," while reducing his price target from $100 to $90, according to Tech Trader Daily. The analyst believes that NVIDIA's core gaming market is in the midst of a meaningful slowdown, which, when combined with NVIDIA's lofty valuation, could be a recipe for disappointment given current levels (shares closed above $110 yesterday).
NVIDIA Drive PX. Image source: NVIDIA.
Too much, too fast
The valuation metric that Shah cites is enterprise value to sales, noting that NVDA is now boasting an EV/sales ratio that is at 10-year highs. This figure has averaged around 2x throughout the past decade, but has skyrocketed over the past year. For reference, this is what he's talking about.
NVDA EV to Revenues (TTM) data by YCharts.
Excitement around NVIDIA's growing tangential businesses like data centers and self-driving cars -- data center revenue soared 145% to $830 million and automotive revenue jumped 52% to $487 million last fiscal year -- has largely driven the positive investor sentiment throughout 2016. But these businesses, while growing nicely, still pale in comparison to the core gaming business in absolute dollars. Gaming revenue last fiscal year totaled $4 billion, or nearly 60% of total sales.
Perhaps the most damning aspect of the research note was Shah believing that "the implied value that the market is ascribing to these emerging businesses is unsustainable." This is especially true if you consider the implied valuation that the market is pricing into each business. For instance, if you assigned an EV/sales multiple of 5x (comparable to peers) to the core gaming business, it would be valued at around $30 billion. That would suggest that the data center and automotive businesses combined are worth about $37 billion, according to Shah's estimates.
Shah is right: NVIDIA's valuation is too high
The analyst's concerns echo my own. While NVIDIA is undoubtedly executing incredibly well with its pivots and continues to put up extremely strong results, it does appear that investor sentiment has gotten ahead of itself. Here's what I wrote two months ago:
NVIDIA's valuation is simply too lofty for comfort, as investors were essentially pricing in flawless execution and massive growth. That's not to say that NVIDIA can't deliver, but rather there's risk that it isn't being priced properly. Any time you have a stock soar over 220% in a single year, which shares did in 2016, there's a good chance that the market is being overzealous.
Again, I think NVIDIA is executing quite well, but the issue is valuation. In fact, if shares continue to pull back to more reasonable levels, I would strongly consider buying in myself.
10 stocks we like better than NVIDIAWhen investing geniuses David and Tom Gardner have a stock tip, it can pay to listen. After all, the newsletter they have run for over a decade, Motley Fool Stock Advisor, has tripled the market.*
David and Tom just revealed what they believe are the 10 best stocks for investors to buy right now... and NVIDIA wasn't one of them! That's right -- they think these 10 stocks are even better buys.
Click here to learn about these picks!
*Stock Advisor returns as of February 6, 2017
Evan Niu, CFA has no position in any stocks mentioned. The Motley Fool owns shares of and recommends NVIDIA. The Motley Fool has a disclosure policy.