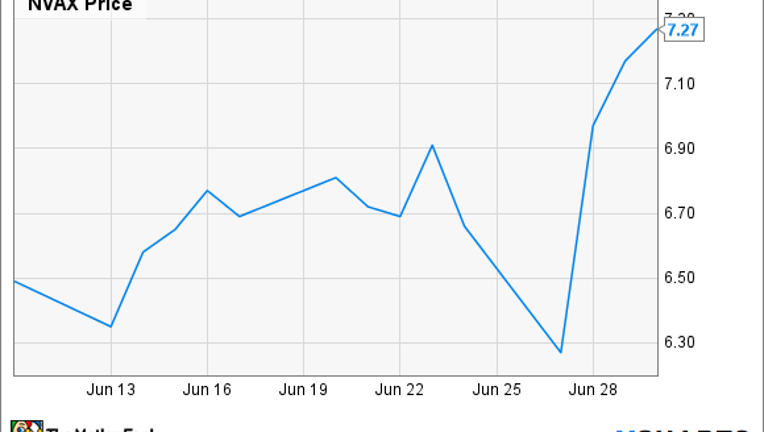 Image source: Getty Images.
What: Shares of Novavax, Inc. , a clinical-stage biotech developing novel vaccines, rose 18.4% in June, according to data from S&P Global Market Intelligence. The stock had been rising since the FDA granted its lead candidate a faster review in May. Post-Brexit bargain shopping late last month, rather than any fundamental news, lifted the stock even further last month.
So what:In the U.S. alone, respiratory syncytial virus (RSV) results in about 207,000 annual hospital admissions, but there aren't any vaccines available to prevent its spread.Novavax's RSV F Vaccine is getting close to entering this underserved space, with top-line data from a phase 3 trial in adults over 60 years old expected during the present quarter.
If the results are positive, the company expects to file an application next year. A fast-track designation granted in May means it could receive a green light from the FDA within six months (instead of the usual 10 months) if the application is accepted.
With over 65 million Americans over the age of 60, an approval for this indication alone gives the vaccine potential to pass the $1 billion annual sales mark. Upcoming data that could expand its label to infants via maternal immunization, and further out to children under five years,could push sales over the $6 billion mark.
Now what:With a market cap of about $2 billion at recent prices, Novavax stock could deliver enormous gains, but it's hardly risk-free.During a phase 2 trial with 1,600 patients over 60 years old, 23 receiving RSV F vaccine showed RSV symptoms within a year of dosing, versus 39 patients receiving a placebo. The 41% risk reduction was statistically significant, but with a p-value of 0.041, it was hardly a slam-dunk.
The phase 3 trial with 11,850 similar patients is looking for a more defined set of symptoms within 182 days of dosing, which Novavax insists increase its odds of success.However, if it fails to reach its goal, investors could end up sitting on heavy losses for years while Novavax develops the runners-up in its pipeline: a couple of phase 2 flu vaccine candidates.
Also concerning is the company's intent to market RSV F vaccine on its own. The company ended March with about $434 million in cash, but it lost $75 million in the first quarter alone.Drug launches can be more unpredictable than clinical trials, and building out a sales force isn't cheap. While Novavax has tremendous potential, its investors have plenty to be nervous about in the quarters ahead.
The article Why Novavax, Inc. Stock Rose 18.4% in June originally appeared on Fool.com.
Cory Renauer has no position in any stocks mentioned. The Motley Fool has no position in any of the stocks mentioned. You can follow Cory on Twitter @TMFang4apples or connect with him on LinkedIn for more healthcare industry insight. Try any of our Foolish newsletter services free for 30 days. We Fools may not all hold the same opinions, but we all believe that considering a diverse range of insights makes us better investors. The Motley Fool has a disclosure policy.
Copyright 1995 - 2016 The Motley Fool, LLC. All rights reserved. The Motley Fool has a disclosure policy.