Why Nordstrom Stock Slipped 14.3% in December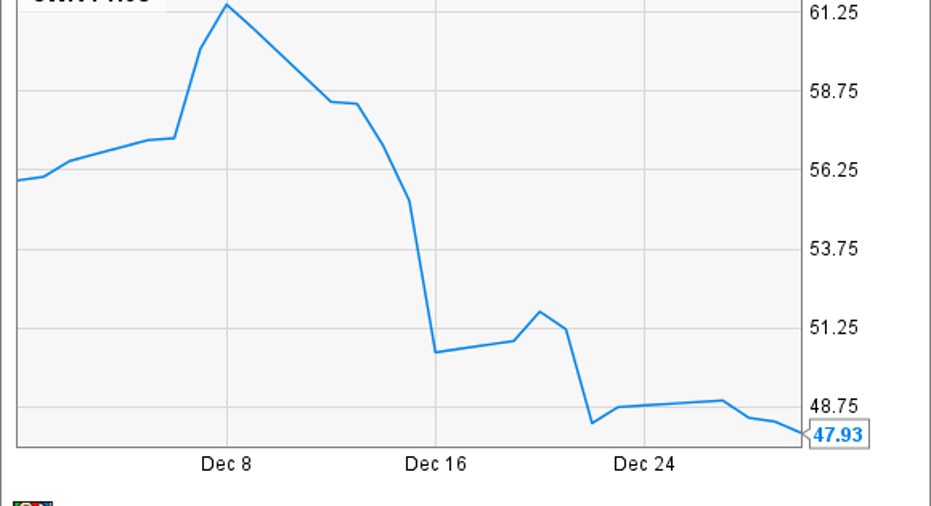 What happened
Department stores have been hit by a wave of bad news recently, with holiday season sales missing expectations. This has caused department store stocks to retreat dramatically during the past month. Upscale retailer Nordstrom (NYSE: JWN) has been no exception. Nordstrom stock fell 14.3% in December, according to data from S&P Global Market Intelligence.
Nordstrom December stock performance, data by YCharts.
So what
The bulk of Nordstrom stock's plunge came following a downgrade by analysts at JPMorgan Chase in mid-December. According to the analysts, Nordstrom's management had described traffic trends in its full-line stores as being the worst since 1972.
While Nordstrom hasn't reported its sales for the holiday season, other department stores' results aren't encouraging. For example, Macy's (NYSE: M) -- which also owns the upscale Bloomingdale's chain (a direct competitor to Nordstrom) -- recently announced that comparable store sales fell 2.1% year over year during the combined November-December period.
Given that Macy's e-commerce sales continued to grow at a double-digit rate, it's safe to say that in-store sales fell at an even faster clip.
Nordstrom has better store locations than competitors like Macy's, on average. Put simply, Nordstrom doesn't have exposure to malls that are dying. But even the best malls in the U.S. aren't drawing nearly as many shoppers as they did just a few years ago.
Mall traffic is falling -- even at the best malls in the U.S. Image source: Nordstrom.
Now what
Nordstrom is likely to join its department store peers in reporting another comp sales decline for its full-line stores in the fourth quarter. However, the company has reduced its costs and inventory commitments over the past year, which should help it protect its margins.
Most importantly, Nordstrom is in the midst of a transformation that is de-emphasizing its full-line stores. Full-line stores generate less than half of Nordstrom's sales today, down from more than 70% just five years ago. E-commerce and the Nordstrom Rack off-price chain now account for a large and growing proportion of sales.
Nordstrom may need to close some full-line stores in the coming years to better match its retail footprint with changing customer behavior. However, it has the off-price and e-commerce expertise necessary to thrive even if mall traffic continues to decline in the years ahead. That should help Nordstrom stock bounce back in 2017 and beyond.
Adam Levine-Weinberg owns shares of Macy's and Nordstrom. The Motley Fool recommends Nordstrom. The Motley Fool has a disclosure policy.